Second victory as good as first: Chris Froome
Chris Froome said this one feels as good as the first after all but wrapping up a third Tour de France title on Saturday.
Barring an unforeseen disaster, Froome was yesterday to be crowned in Paris after the final stage finish on the Champs Elysees.
And after pulling on the yellow jersey that he will wear one more time on this year's race, Froome said it was up there with winning his first in 2013.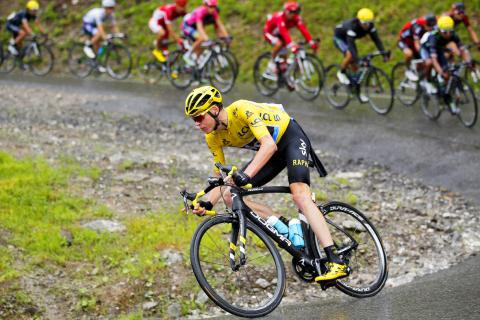 Chris Froome, wearing the overall leader's yellow jersey, rides in the Tour de France's 20th stage over 146.5km from Megeve to Morzine, France, on Saturday.
Photo: EPA
"Right to the last finish line I had a lot of stress and a lot of emotion today," the 31-year-old Briton said. "To pass the last finish line with my teammates, it was ouf! Happiness, that's it."
"Three weeks of full gas, after everything that has happened these last three weeks, it's incredible — the good moments and very difficult moments," he added.
Froome crashed twice during the Tour de France, finishing one stage on a teammate's bike and on another he changed his bike twice in the last kilometer and, most memorably, ended up running to the line on the epic Mont Ventoux climb.
He even crashed again on Friday's 20th stage, but kept his cool and managed to extend his overall lead.
He has won two stages, attacked where no one expected and been more dominant than ever before.
"It feels like it's been a rollercoaster, there have been amazing moments where it feels like we've really taken on the race and made the race," Froome added.
"The descent to Bagneres-de-Luchon [on the seventh stage, which he won] for example and the one in the crosswinds [where he finished second to Peter Sagan in the 11th stage], things like that, you can't script moments like that," he said.
Froome's prime rival, Nairo Quintana, who has complained the past few days of suffering from a mystery "allergy," admitted the best man won.
And despite finishing with his worst result — third — after coming second to Froome in his previous two attempts in 2013 and last year, the 26-year-old Colombian remained pleased.
"I finish very happy. Three Tours, three podiums, it's a lot of joy," he said. "We came with a more ambitious objective, we tried, but this is the greatest race in the world. I must be happy with this third place."
"Chris Froome was too strong. It's the third time I've lost against him, but I'm still happy with our team showing on this Tour," he added.
Frenchman Romain Bardet followed up his second place finish to Froome in last month's Tour de France warm-up event, the Criterium du Dauphine, by finishing second again.
It was his best Tour yet, after coming sixth in 2014 and ninth last year, while he also won Friday's 19th stage.
"It's a lot of emotion, I'm going to repeat myself, but last night we took a lot of time to enjoy it and we were able to go back into it today to retain this second place," he said. "It's an exceptional performance and we can be proud to have succeeded in these conditions. To be honest, I wanted to finish in the highest position I could in line with my abilities. I really enjoyed myself."
While the driving rain and tricky conditions, particularly on the descents, helped to neutralize the battle between the top riders on Saturday, Spain's Ion Izaguirre won the 20th stage.
It was the first for his country and his Movistar team at this Tour, but most surprising for having come from defeating two talented descenders, Vincenzo Nibali and Jarlinson Pantano, on the 12km run down to the finish in Morzine.
"Beating Nibali in a downhill is something that counts in a career, but Pantano also descends very well. I'm super happy," Quintana's teammate said. "We came here with the Sueno Amarillo [yellow dream], but Froome was the strongest. At the end of the day, we're happy with a spot on the podium, a stage win and the teams' classification victory."
Comments will be moderated. Keep comments relevant to the article. Remarks containing abusive and obscene language, personal attacks of any kind or promotion will be removed and the user banned. Final decision will be at the discretion of the Taipei Times.