Berger outlasts Mickelson to win first title at rain-hit FedEx St Jude Classic
Killing time during a three-hour rain delay on Sunday, Phil Mickelson ribbed Daniel Berger about having won the PGA Tour rookie of the year award without a victory.
That was a bit of a sore spot for the ultra-competitive 23-year-old Floridian.
Berger answered once the thunderstorms ended by winning the FedEx St Jude Classic for his first title. He shot a three-under 67 to hold off Mickelson, Steve Stricker and Brooks Koepka by three strokes.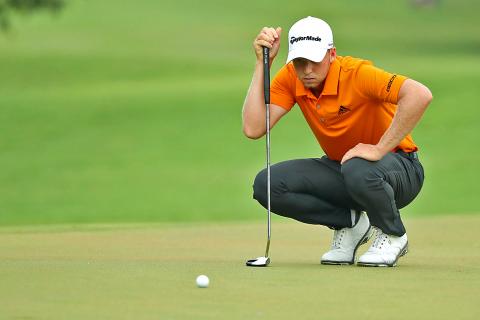 Daniel Berger lines up a putt on the first green in the final round of the FedEx St Jude Classic at TPC Southwind in Memphis, Tennessee, on Sunday.
Photo: AFP
"To kind of get it done today means a lot," Berger said.
Berger had never been in a final pairing until on Sunday. First Mickelson needled him in the players' dining area while everyone waited out the lightning. Then, Mickelson, with his 42 career PGA Tour titles, closed within a stroke on the back nine. Berger responded with birdies on three of his next four holes, highlighted by a 32-foot putt on the par-three 14th that pushed his lead to 13-under.
He finished at 13-under 267. He became the 13th first-time winner on tour this season and took home the winner's check of US$1.1 million in the 50th start of his career.
"To do that with so many great players, Hall of Famers behind me, it's something that I'll never forget and I just love the way I hung in there and was able to get it done," Berger said.
Mickelson and Stricker shot 67, while Koepka had a 66. Dustin Johnson had a 63, setting the back-nine record of 29, to finish fifth at nine-under.
Mickelson complimented Berger for a well-played back nine and said he enjoyed being in contention, even though the veteran could not quite catch the youngster.
"For the most part I hit a lot of good shots, played pretty well and seems, it almost feels like US Open came a week early to finish another second place," Mickelson said.
Berger also became the fourth first-time winner at this event in the past six years and 10th overall in Memphis.
Now he is to head to Oakmont, Pennsylvania, trying to do something no one has ever done before, following up a tour title by winning the US Open.
Only 11 have ever won a major after winning on tour, with Rory McIlroy the last when he won the PGA Championship the week after taking the WGC-Bridgestone Invitational in 2014.
The weather slowed down Berger, but only for a hole. He had hit only hit three shots when the horn sounded. Play resumed at 4pm, and Berger restarted by two-putting from 10 feet on No. 1 for bogey.
Berger had already finished second twice, with a total of nine top 10s in his young career. He shook off the bogey by stringing together four straight pars, with Koepka catching him atop the leaderboard at nine-under before bogeying No. 8.
Berger birdied No. 6 and No. 11 to make the turn at 11-under.
He stumbled on No. 10, two-putting from 10 feet for bogey.
Mickelson went to nine-under with two birdies on his first three holes on the back nine, which included a 44-footer on the par-four 12th. Then Mickelson's putter failed him as he just missed from 11 feet on No. 13 and 17 feet on No. 14 chasing his first win since the 2013 The Open Championship.
Berger had no such issues as he rolled in putts of 8 feet on No. 12, the 32-footer on No. 14 — the same hole he put his tee shot into the water and double-bogeyed on Saturday — and a 22-footer on No. 15.
That proved more than enough margin as Mickelson birdied the par-five 16th.
Comments will be moderated. Keep comments relevant to the article. Remarks containing abusive and obscene language, personal attacks of any kind or promotion will be removed and the user banned. Final decision will be at the discretion of the Taipei Times.