Rashford's rise no surprise for Hodgson
'SERIOUSLY COMPETING': The England coach said that the 18-year-old striker did his chances of being included in the team's squad for next month's Euro 2016 no harm
England coach Roy Hodgson said Marcus Rashford's dream debut for the national side came as no surprise after the Manchester United sensation staked his claim for a Euro 2016 place with a record-breaking strike in a 2-1 win over Australia.
England manager Hodgson had said the world would be watching to see if Rashford could cope with the pressure of what amounted to a one-game audition for a place in his final 23-man squad for the Euros.
Rashford took just 2 minutes, 15 seconds to deliver an emphatic response, as the teenage striker's lethal volley opened the scoring in Friday's Euro 2016 warm-up at the Stadium of Light.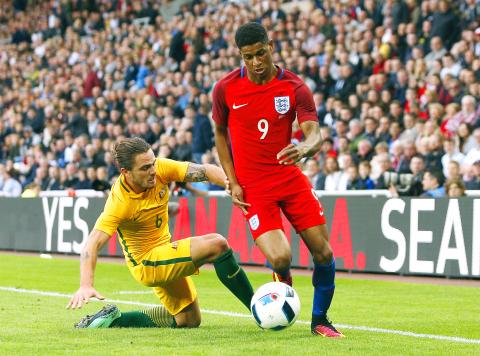 England's Marcus Rashford, right, dribbles the ball past Australia's Joshua Risdon in their international friendly at the Stadium of Light in Sunderland, England, on Friday.
Photo: Reuters
No player of such a tender age had ever found the net on his England debut and at the age of 18 years, 209 days, Rashford is behind only former Liverpool star Michael Owen (18 years, 164 days) and United captain Wayne Rooney (17 years, 317 days) in the list of the youngest scorers in an England shirt.
Rashford's meteoric rise is starting to resemble the memorable performances delivered by both Owen and Rooney early in their England careers.
Both made their names by dazzling as teenagers at major tournaments — Owen at the 1998 FIFA World Cup and Rooney at Euro 2004 — and Rashford looks capable of following in their footsteps after netting at the same venue where Rooney scored his first England goal 13 years ago.
Hodgson, who has until Tuesday to axe three players from his 26-man provisional squad, would not confirm Rashford had done enough to seal his seat on the flight to France.
However, his glowing response to questions about the youngster suggested he can dig out his passport.
"The subject of Marcus Rashford, I guess, will chop a few trees down tomorrow," Hodgson said. "I was asked if I was nervous about putting him and if he could handle the situation. I was not nervous or surprised with how he played."
"He tired a little in the second half, but that is normal for your debut... I am pleased. We changed from the diamond [formation] to see if he could play in the wider positions and that was a further advantage," Hodgson added. "He was always one of the players who was seriously competing for a place in the 23 and he has done his chances of traveling with us no harm."
Just three months ago, Rashford, who earns £1,500 per week (US$2,200) — compared with Rooney's £300,000 per week — and drives a relatively modest Audi, was an unknown yet to play a professional game as he strove to emerge from the youth ranks at Old Trafford.
However, he has seized his chance in remarkable fashion, scoring eight goals in 18 United appearances and helping the team win the FA Cup.
Rashford, from the unassuming Manchester suburb of Wythenshawe, has now scored with his first shot in the English Premier League and with his first attempt in an England shirt, making him the kind of game-changer Hodgson sounds keen to harness.
Rashford's cause is helped by the calf injury that ruled Liverpool forward Daniel Sturridge out of the Australia match.
Sturridge has struggled with injuries to such an extent that he has played only 58 minutes for England since 2014 and, with Rooney, Harry Kane and Jamie Vardy guaranteed of their spots, he could miss out on the Euros if Hodgson decides to take just four strikers.
Sturridge has an attempt to save his berth by taking part in a full training session tomorrow and Hodgson said: "Nothing changes. I will have two or three more sleepless nights before I submit my list on Tuesday. I know Daniel Sturridge. If it turns out that the injury would keep him out for the [Euro 2016] game against Russia, that might make a difference, but I have no indication it is that serious."
Comments will be moderated. Keep comments relevant to the article. Remarks containing abusive and obscene language, personal attacks of any kind or promotion will be removed and the user banned. Final decision will be at the discretion of the Taipei Times.