Fans complain over Lin treatment
Kuei Hsiu-chen waited until her husband and three sons had gone to bed one night before surreptitiously beginning work on an ambitious personal project.
As they slept, Kuei, 48, a stay-at-home mother from San Jose, California, hunkered down at her computer and began poring over highlight videos featuring Charlotte Hornets guard Jeremy Lin, her favorite NBA player. She fumbled around on Final Cut Pro, a video-editing program, splicing together the specific clips she had sought. She did this for six straight nights, three hours each night.
On April 5, Kuei uploaded her finished product, a 6.5-minute video, to YouTube. She called it: Jeremy Lin: Too Flagrant Not to Call.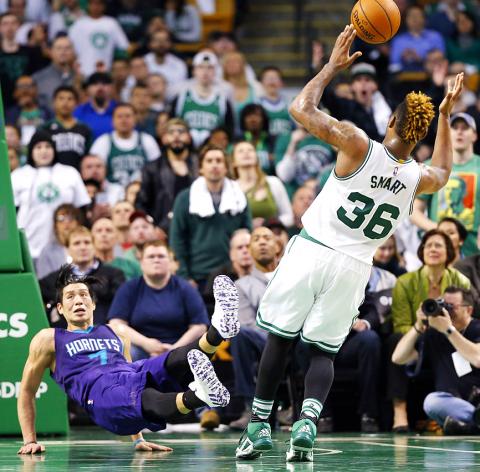 Charlotte Hornets point guard Jeremy Lin, left, falls to the floor after colliding with Marcus Smart of the Boston Celtics during their game in Boston on Monday.
Photo: AP
Piecing together clips of Lin being whacked in the face, clotheslined, bleeding, tumbling to the floor — all without ever drawing a flagrant foul — Kuei tried to convey that Lin, an American-born son of immigrants from Taiwan, was the target of excessive physicality from opponents and insufficient protection from the league and its referees.
To Kuei's surprise, the video attracted close to 1 million views, capturing the attention of basketball fans around the world and the eye of the league. As of yesterday, it had more than 1.06 million views. With its bruising simplicity, it revived questions about the fairness and consistency of officiating in the NBA and led to conversations about latent racial biases. With its far-flung reach, it reiterated the power of social media in the contemporary sports landscape.
"I'm just happy that people are noticing this," Kuei said in a telephone interview on Tuesday. "It's not about views. I didn't get money or anything. I didn't want attention. I just want Lin to get fair calls."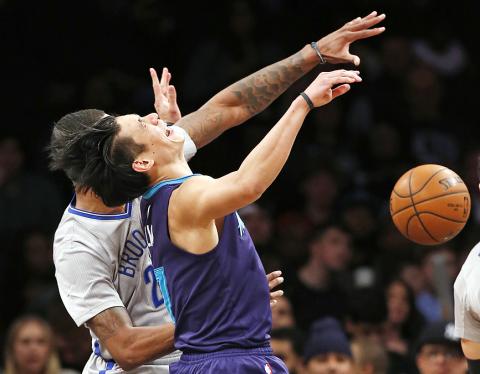 Charlotte Hornets point guard Jeremy Lin reacts after a collision during their game against the Brooklyn Nets in New York on March 22.
Photo: AP
Kuei's original clip had more than 1,000 comments through Thursday morning. A version of the video with Chinese subtitles had more than 750,000 views on YouTube. Threads on online messages boards, like Reddit, engendered fevered discussion and debate.
The video kept spreading. Media outlets in Taiwan and Hong Kong, where Lin has many fans, ran stories on it this week. Though it seems not yet to have attracted the attention of the news media in China, fans on social media there have taken notice: A copy of the video has spread on microblogging services.
To accompany the video, Kuei recruited two online acquaintances from Lin-centric message boards to help draft a letter to send to the NBA. She then encouraged fans — some of whom she understood might not be comfortable writing in English — to copy the letter and send it to the league as well.
"Throughout Lin's six years in the NBA, we have continuously witnessed Lin as the recipient of numerous hard fouls with unnecessary and excessive force by other players," the letter reads. "In these cases, the referees either didn't make the calls or made incorrect calls."
The NBA responded with a statement. It was a notable victory — a grassroots, fan-led project receiving acknowledgment from a major sports league — but the NBA stood by the handling of all the plays highlighted in the video. Fans who wrote to the league received a letter encouraging them to read the rules that categorized fouls. A similar statement was forwarded to media outlets seeking comment.
"While some of the plays in the video involved hard contact, none was subsequently deemed a flagrant foul given the full circumstances, angles and comparables from past games," the statement reads.
Kuei and her partners found the league's response disappointing and unsatisfactory.
"They are telling us to look at the rules, but it doesn't seem like they are looking at the rules," said Jenny Wei, who was born in Taiwan and is now a stay-at-home mother in Los Angeles.
She composed the first draft of the letter.
"I feel like they think we're not smart or we don't know basketball," she said. "We know basketball."
The video made its way to Lin, who expressed his appreciation for the group's efforts after the Hornets' game on Sunday night.
In an interview with Dennis Tsai, a reporter for the Apple Daily in Taiwan, Lin said he agreed with the premise of the video, even as he acknowledged that there was little about the situation that he could control.
"I'm just psyched that the fans are trying to do something about it and trying to push the league to at least review some of the stuff," Lin said.
The three fans involved in the project — Kuei, Wei and Chan Koon-ping, a third fan from New York, who was born in Hong Kong and helped edit Wei's draft — have never met in person, but they interact almost daily in online chat groups. They all began following Lin after his breakout season with the New York Knicks in 2012 and now belong to the fervent community of Lin supporters that spreads over multiple continents.
They did not attempt to establish a case through statistics, because data cannot capture what was at the heart of their complaint. It was the brutality of the individual fouls, not the overall tally, that angered them.
"Did you see those fouls, how his neck snapped back?" Wei said.
Critics of the video have suggested similar ones could be made about other players.
Kuei, who was born in Taiwan, does not disagree, but does not feel that it contradicts her view that Lin gets shortchanged.
She said fans of other players should make their own videos.
"Through this, I just want to make sure the rules apply to every player and players get protected by the rules," Kuei said.
Though Kuei's video does not attempt to speculate on the root cause of Lin's perceived treatment, much of the ensuing discussion has gravitated toward Lin's race.
Kuei said that neither the video nor the letter accused anyone of racism. However, she and her partners said they understood why people might be drawn to such conclusions.
"I do think, in my mind, clearly at a minimum, we could say he's being treated differently," said Chan, 68, a former banker. "We want people to make up their own minds, to try to interpret it."
Wei agreed.
"I experience things as an Asian in America," she said. "It's there."
Though the group has found the league's response underwhelming, it has been invigorated by the reaction from other fans and the news media. The video inspired a follow-up examination on Wednesday from ESPN reporter Tom Haberstroh, who said that the 813 fouls that Lin had drawn during the past three seasons represented the highest total for a guard — and the third-highest number for any position — without a flagrant foul.
"That proved it," Wei said of the report. "We're not crazy."
Comments will be moderated. Keep comments relevant to the article. Remarks containing abusive and obscene language, personal attacks of any kind or promotion will be removed and the user banned. Final decision will be at the discretion of the Taipei Times.