New York to end ban on pro mixed martial arts fights
New York is poised to end its ban on professional mixed martial arts (MMA), the last US state to prohibit the combat sport.
The New York Assembly plans to vote this week after years of leaving the ban intact over fears that the sport was too violent.
Two Assembly committees voted early on Tuesday to advance it, with a floor vote expected later in the day.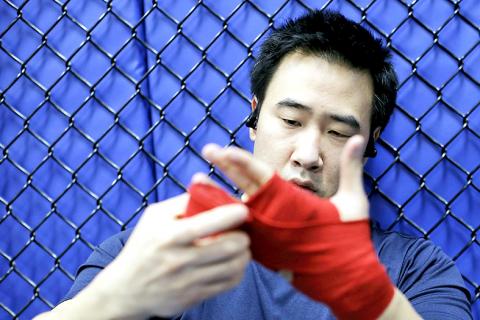 John Kim wraps his hands before training at a mixed martial arts gym in New York on Monday.
Photo: Reuters
New York Assemblywoman Margaret Market, who chairs the tourism committee, said she initially opposed MMA after running into a group of destitute ex-boxers, but added protections for fighters have made it "palatable, at least to me at this point in time," she said.
The committee voted 15-5 for it.
"This bill not only will bring professional mixed martial arts to New York, but just as importantly, it will allow for rules and regulations that will offer protections for the amateur fighters as well," New York Assembly Member Dean Murray said.
New York Assembly Member Pat Fahy noted those changes, but voted against it, citing its violence and growing evidence of serious brain injuries and concussions in football and boxing.
The Ultimate Fighting Championship, the sport's largest US promoter, has its eyes on hosting a major fight card late this year at Madison Square Garden and said there will be other professional shows next year in Brooklyn, Buffalo and smaller cities.
Advocates said it has evolved from rougher early days with more rules to protect fighters. Meanwhile, it is on TV, and fighters train and amateurs compete in New York.
The legislation would put MMA under the control of the State Athletic Commission, which regulates professional boxing with drug testing, officials and ringside doctors.
Recently added legislative provisions would increase required insurance for fighters to US$50,000 for injuries and US$1 million for life-threatening brain injuries. It authorizes the state to study potential funding mechanisms for long-term care of fighters who develop degenerative brain conditions.
New York Governor Andrew Cuomo proposed legalizing the sport in his budget for the coming fiscal year, saying that thousands of New Yorkers already attend dozens of unregulated amateur matches by unlicensed promoters who would also come under government control.
Comments will be moderated. Keep comments relevant to the article. Remarks containing abusive and obscene language, personal attacks of any kind or promotion will be removed and the user banned. Final decision will be at the discretion of the Taipei Times.