F1 attempts to revitalize sport before longest season
The longest season in Formula One history also risks becoming its most extended test of patience if efforts to shake up the sport fall flat.
Last year was so predictable that even F1 supremo Bernie Ecclestone called it "boring," while runaway winner Lewis Hamilton agreed the crisis-prone sport was "broken."
With a record 21 races this year, organizers have been searching hard for ways to boost flagging viewing figures for a series that is too often dominated by one team.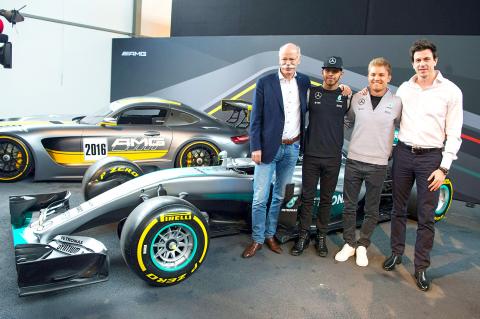 From left, Daimler CEO Dieter Zetsche, drivers Lewis Hamilton and Nico Rosberg and Mercedes AMG Petronas Formula One Team executive director Toto Wolff pose for a photograph in front of show cars at a news conference in Fellbach, Germany, on Friday last week.
Photo: EPA
The nightmare scenario is another parade for Mercedes, whose drivers Hamilton and Nico Rosberg won 16 of the 19 grands prix last year and only missed pole position once.
Pre-season testing, in which Mercedes clocked 6,024km, nearly one-third more than their closest rivals Ferrari, has cast a sense of foreboding over this week's season start in Melbourne.
Chief among the innovations is a much-debated new qualifying format, which steadily eliminates cars one by one and finishes in a top-two shoot-out.
However, the new system does not look like it will have much impact on the quickest drivers, with Rosberg admitting last week he had not even bothered to look at it.
One fear is that it will introduce even more complexity to a sport already heavy on technicalities.
"I read them [qualifying regulations] very briefly and I didn't understand them," Toro Rosso's Carlos Sainz Jr said.
"I just hope that the fans that are not big fans of Formula One and just turn on their TV on Sunday understand it and they know what's happening," he added, according to Autosport.com.
The cars should at least make more noise this year, with twin exhausts introduced after complaints from petrol-heads that the hybrid F1 engines were simply too quiet.
A big cut in radio communications is to make a genuine difference, forcing drivers to make decisions rather than rely on their data-crunching teams in the pit lane.
"Strategy, engine mode deployment, tire choices, even up to a point pit stops, a lot will be down to the driver to decide," Mercedes boss Toto Wolff said on Autosport.com. "Things will be less optimized by algorithms and engineers, and it will give room for error."
"What I like is that it is the driver who will be taking decisions, and not remote-controlled from the garage," he added.
Hamilton warned that life was about to get much harder for drivers, who already have trouble mastering their cars' complicated systems.
"The idea is probably a good thing and you'll see it evolve over the races," he said. "We're all going to struggle, probably in the first race in some way or some form, but we've tried to prepare the best way we can."
Comments will be moderated. Keep comments relevant to the article. Remarks containing abusive and obscene language, personal attacks of any kind or promotion will be removed and the user banned. Final decision will be at the discretion of the Taipei Times.