Doussain looking to make most of surprise reprieve
Jean-Marc Doussain has vowed to seize his opportunity after being recalled to the France squad after a two-year absence by his former club coach Guy Noves.
Doussain, 24, came up through the youth ranks at Toulouse where Noves spent his entire playing and coaching career before being named France boss following last year's Rugby World Cup.
He made a raft of changes to the World Cup squad selected by his predecessor Philippe Saint-Andre, and one such sees Doussain return to the fold.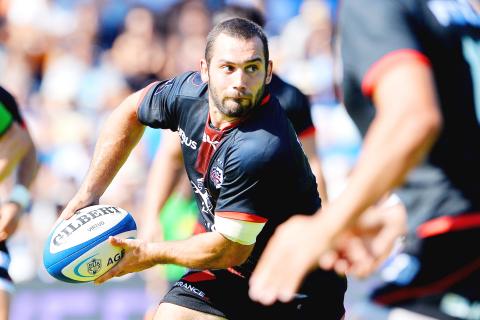 Toulouse scrumhalf Jean-Marc Doussain runs with the ball during the French Top 14 rugby union match against Agen at the Armandie stadium in Agen, southwestern France, on Aug. 29 last year.
Photo: AFP
"I did not expect to be called up so soon, even though you always hope to get back in the France team," Doussain said. "Once you have had a taste of nice things you miss them and you want to return. Obviously, I am very happy, but I know that everything is called into question in every match. Over the past two years I have gained experience, whether that be through the failures I have had or the successes. It has all played a role in forging my personality."
The versatile halfback has also been slowly converting from primarily a scrumhalf to mostly a flyhalf.
His first appearance in a France shirt was as a scrumhalf, when he made a late five-minute cameo in the 2011 World Cup final — the only player ever to make his debut in the global tournament's title match — but this time, Noves has selected him as a flyhalf.
With Montpellier's Francois Trinh-Duc still making his way back to full fitness from a broken leg suffered in November last year, Doussain will have the chance to stake his claim for the No. 10 jersey when France host Italy in their Six Nations opener on Feb. 6.
Stade Francais flyhalf Jules Plisson is likely to get the nod ahead of Doussain, but the latter is determined to take his chance, although he acknowledges he must finally specialize in one position or another.
He faces tough competition at Toulouse for the No. 10 shirt from ex-England international Toby Flood and former All Black Luke McAlister, but with his teammate Sebastien Bezy also called up by Noves as one of the French scrumhalves, Doussain could benefit from that familiarity and understanding to form a regular halfback partnership in the international setup.
"At the start of the season Ugo [Mola, the Toulouse head coach] picked me in one of the two positions without knowing too much which one," Doussain said. "Now it is up to me, if I want to reach a certain level, whether with my club or elsewhere, to lock down one position."
For now, Noves views him as a flyhalf with an alternative profile to Plisson or Trinh-Duc.
"We know that in the defensive sector he is a rock, those who try to go through him get broken," Noves said. "He is the opposite stylistically in one way from a Francois Trinh-Duc or a Jules Plisson."
Doussain is certainly a solid unit, weighing in at 92kg, even though he stands only 1.74m tall.
He has 10 caps to his name, the last nine coming during the Saint-Andre era in which he was briefly first choice scrumhalf.
He started the first three matches of the 2014 Six Nations, but was hauled off at halftime against Wales and subsequently had to play second fiddle to Maxime Machenaud, who is also back in the France squad after being overlooked for the World Cup.
However, he missed a late penalty in their final match against Ireland that would have seen them finish second instead of fourth — and denied the Irish the title in favor of England — and has never since donned the blue jersey.
However, Noves is a confirmed fan and the immediate future looks bright for Doussain.
"He is a very respectful lad, adorable, within the group he is wonderful," Noves said. "On the pitch he is irreproachable in terms of his commitment."
Comments will be moderated. Keep comments relevant to the article. Remarks containing abusive and obscene language, personal attacks of any kind or promotion will be removed and the user banned. Final decision will be at the discretion of the Taipei Times.