Manning leads the Broncos to top seed
GUT FEELING: With Denver trailing 13-7 after a Chargers touchdown in the third period, Gary Kubiak made the call to bench Brock Osweiler in favor of Peyton Manning
Quarterback Peyton Manning helped turn coach Gary Kubiak's gut feeling into a winning move.
Cast in the unfamiliar role of backup, Manning came off the bench to relieve an ineffective Brock Osweiler and led four second-half scoring drives as the Denver Broncos rallied to beat the San Diego Chargers 27-20 on Sunday.
The victory clinched the American Football Conference West title and the conference's No. 1 playoff seed.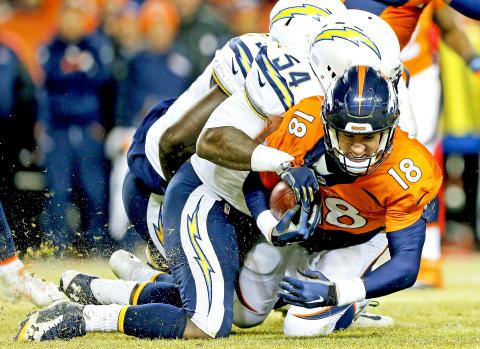 Denver Broncos quarterback Peyton Manning, right, is sacked by San Diego Chargers outside linebacker Melvin Ingram in the second half of their NFL game in Denver, Colorado, on Sunday.
Photo: AP
"It's been a different year certainly, a different week, different approach," Manning said. "I think when I was in there we ran the ball better. We held on to the ball, caught the ball better. That's just kind of how it worked out."
Relying more on his leadership and steadying influence than his passing arm in his first action in seven weeks, Manning drove the Broncos (12-4) to a pair of field goals by kicker Brandon McManus, and on marches that ended in touchdown runs by C.J. Anderson and Ronnie Hillman.
"He told us to go out and put some points on the board, and that's what we did," wide receiver Demaryius Thomas said of Manning. "He told everyone to calm down. He came in and was the leader that he is."
The Broncos defense stopped San Diego's final possession on downs and Manning took a knee to run out the final few seconds.
"Maybe we played really good considering all the elements, but we gave them all they wanted," San Diego quarterback quarterback Philip Rivers said. "But we lost, so that goes for naught. It's just sickening losing like this."
"Well, if that game doesn't summarize our season, I don't know what does," Chargers coach Mike McCoy added.
Kubiak said he decided to go with Manning after the Broncos were set back by their fifth turnover of the game during the third quarter.
"Just my gut told me to turn it over to him," Kubiak said. "I'm just very proud of him. He's worked really hard to stay there for us and it couldn't be a bigger day to be there for us."
Coupled with the New England Patriots' loss earlier to the Miami Dolphins, the Broncos claimed a first-round playoff bye in addition to their fifth straight division crown.
"It lifted the whole stadium," Broncos cornerback Aqib Talib said of Manning's insertion into the game. "It lifted the O-line. The O-line got with it, and we opened up some holes and got to running that ball. I don't know if it was just his presence, but it was just a little energy that came through the building."
With Denver trailing for the first time, 13-7 after a Chargers touchdown nearly halfway through the third period, and their playoff seeding hanging in the balance, coach Gary Kubiak made the call to bench Osweiler in favor of Manning.
It was the first time the 39-year-old was active since leaving the field during a loss to the Kansas City Chiefs on Nov. 15 with a foot injury after throwing four interceptions.
Comments will be moderated. Keep comments relevant to the article. Remarks containing abusive and obscene language, personal attacks of any kind or promotion will be removed and the user banned. Final decision will be at the discretion of the Taipei Times.