Kobe Bryant eyes Olympics swan song
Kobe Bryant sounds like someone who wants to play beyond this season — if only for a few months.
Bryant on Monday said that he still wants to be part of the team that USA Basketball sends to next year's Rio Olympics, a tournament that theoretically could mark the end of his competitive basketball career if he retires at the conclusion of this NBA season. Bryant helped the US win gold at the 2008 Beijing Games and 2012 London Games.
"It would mean the world to me to be around those guys," Bryant said. "I think to be able to have a chance to continue the relationship that I already have with most of those guys, talking and just kind of being around each other and understanding that this is it, it is just us being together, that would be fun."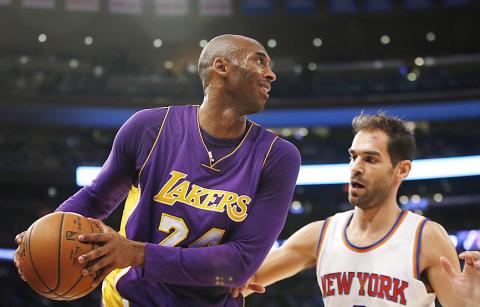 The Los Angeles Lakers' Kobe Bryant, left, keeps the ball from the New York Knicks' Jose Calderon in their NBA game at Madison Square Garden in New York City on Sunday.
Photo: AP
Bryant is in his 20th season with the Los Angeles Lakers, and questions have been rampant for some time whether this NBA season is to be his last. Bryant has suggested that he is leaning in that direction, though has stopped short of making a true retirement announcement.
The notion of Bryant being on the US Olympic team started being bandied about in earnest in August, when USA Basketball chairman Jerry Colangelo revealed that he had spoken with the five-time NBA champion — who previously said he would not play in Rio — about the potential of being on the team. The 12 players on the list for Rio is expected to be revealed in June next year.
"How I feel now, is that I feel like I can add value from a leadership perspective and a defensive perspective," Bryant said. "I can still move extremely well defensively."
Bryant is to turn 38 two days after the gold-medal game in Rio. He has been on five different USA Basketball national teams, with those teams combining to go 36-0 in international competition. If he is picked for Rio, he and other veterans, such as LeBron James, Chris Paul and Carmelo Anthony, would have a chance to become the first US men to win Olympic basketball gold three times.
"I would like to play," Bryant said. "I think it would be awesome. A beautiful experience. I am a global kid. I grew up in Italy, I know a lot of athletes from different parts of the world, from different sports. It would be great to play in that environment."
Bryant is the third-leading scorer in NBA history and is averaging 16.5 points per game so far this season.
Comments will be moderated. Keep comments relevant to the article. Remarks containing abusive and obscene language, personal attacks of any kind or promotion will be removed and the user banned. Final decision will be at the discretion of the Taipei Times.