Blackhawks' Patrick Kane will not face rape charges
NHL star Patrick Kane will not face rape charges because the accusations made by a woman who had met him at a Buffalo, New York, nightclub contained inconsistencies and were not backed up by credible evidence, a county prosecutor said on Thursday.
The woman, whose name has not been disclosed, had accused the 26-year-old Chicago Blackhawks player of raping her at his offseason lakeshore home in Hamburg, a Buffalo suburb, in the early morning hours of Aug. 2.
Kane is one of the NHL's top stars and has led the Blackhawks to three Stanley Cup championships.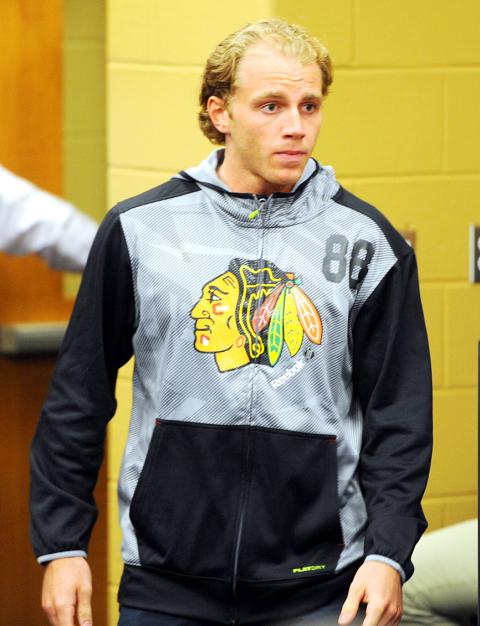 The Chicago Blackhawks' Patrick Kane arrives at an NHL hockey training camp at the Compton Family Ice Arena in Notre Dame, Indiana, on Sept. 17.
Photo: AP
"The totality of the credible evidence — the proof — does not sufficiently substantiate the complainant's allegation that she was raped by Patrick Kane and this so-called 'case' is rife with reasonable doubt," Erie County District Attorney Frank Sedita said.
DNA evidence did not confirm the woman's allegation she had been raped by Kane, Sedita said, adding there were "significant material inconsistencies between the complainant's accounts and those of other witnesses."
"The DNA results lend no corroboration whatsoever to the complainant's claim of penetration, a required element of proof for a rape charge," he said. "The physical evidence and the forensic evidence, when viewed in tandem, tend to contradict the complainant's claim that she was raped on Kane's bed."
Sedita said the accuser had already decided not to proceed with a criminal prosecution, but he still could have sent the case to a grand jury for possible charges.
"I have repeatedly said that I did nothing wrong," Kane said in a statement. "I have respected the legal process and I am glad that this matter has now been closed."
Kane and the woman had met that evening at a downtown Buffalo nightclub.
Comments will be moderated. Keep comments relevant to the article. Remarks containing abusive and obscene language, personal attacks of any kind or promotion will be removed and the user banned. Final decision will be at the discretion of the Taipei Times.