Small-time cricket proves to be big draw in Qatar
Malfas, a Sri Lankan ticket officer who has worked in Qatar for six years, dabs the ball into the outfield, scampers for the winning single, then raises his arms in triumph.
Immediately his victorious teammates rush onto the vast Doha pitch in celebration, hugging each other.
In the stands, a Sri Lankan band, including an irrepressible trumpeter and two noisy drummers, strike up their umpteenth song of a sticky Qatar evening.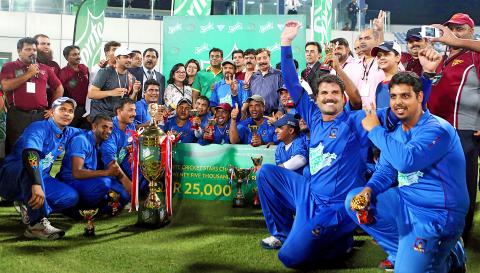 Players pose for a photograph following a game at the Asian Town Cricket Stadium in Doha on Sept. 10.
Photo: AFP
Amid the growing din, a Bhangra band prepares to dance as the announcer shouts out the result over a booming pitch-side microphone. Organizers hurriedly place trophies on plinths.
Those present are drawn from among Qatar's army of Indian, Pakistani, Bangladeshi and Sri Lankan workers, all prominent cricket-playing nations.
Between them, these four countries account for almost 40 percent of Qatar's population.
"You see the workforce that comes from the subcontinent — India, Pakistan, Bangladesh, and Sri Lanka — they love cricket," said a smiling Shahid Iqbal, captain of the victorious team, Qalco, a local oil company. "So, because the national game of Qatar is football, we are looking for some opportunities to play cricket. That is our national game."
The joyous scenes are worthy of one of the almost 90 major sporting events, including the Paralympics world championships, to be held in Qatar in the 12 months up to March next year.
However, this jubilant night on the grim fringes of the capital does not even register as a footnote on the country's A-list sporting calendar. It was not advertised, no promotional banners were stuck to lampposts, no tickets sold in the city center, nor any international superstars flown into highlight the event, as usually happens in Doha.
Yet, despite the sweaty conditions, a good-size crowd — about the same as that at a recent Qatar World Cup soccer qualifier — turned out for a seemingly inconsequential eight-overs-a-side cricket competition between teams composed entirely of laborers or those representing local companies.
Well away from the bright lights of Doha's ultra-modern city center stands the Asian Town Cricket Stadium, where many of the Gulf state's laborers come to relax.
Qalco and their opponents in the final, QDVC, battled through a competition involving nine teams.
The tournament itself is like a form of street cricket, which just happens to be played in a 14,000-seater stadium.
There is no hard "real" cricket ball — more a slightly harder and bouncier tennis ball — so there's no need for batsmen to wear protective pads.
Heading into the final, Qalco were clear favourites, thanks in no small part to their star Pakistani batsman Ifzal Khan.
QDVC's skipper, who gives his name as Zuheb, admits his team, made up of an assortment of workers, had little chance in the final.
"Some of them are drivers. I do HR work. Some of them here are AC technicians. Some of them are stall-keepers, those kinds of things," he said.
Prizes include sharing 25,000 Qatari riyals (US$6,800) among the winning team, and 10,000 riyals for the runners-up.
In Qatar, it is hard to escape the vexed issue of workers' rights.
The match takes place close to a sprawling new accommodation center for up to 70,000 workers, many from South Asia.
The company QDVC, a subsidiary of French construction firm Vinci, has been accused of using forced labor on sites in Qatar — a claim it vehemently denies — and taken to court in France.
One Bangladeshi player tells reporters that he is desperate to win a share of the prize money, as it will equate to about a month's wages, which he could then send home to his family.
The conversation is overheard and leads to accusations of trouble-making, a jarring note on an otherwise sportsmanlike evening.
Comments will be moderated. Keep comments relevant to the article. Remarks containing abusive and obscene language, personal attacks of any kind or promotion will be removed and the user banned. Final decision will be at the discretion of the Taipei Times.