Russia, Germany victorious at World Championships
Russia's Roman Vlasov and German Frank Staebler won titles on Monday in the opening session of the Wrestling World Championships in Las Vegas.
Staebler defeated Korea's Ryu Han-soo at 66kg, and Vlasov beat Denmark's Mark Madsen at 75kg.
Top-ranked Armenian wrestler Artur Aleksanyan beat Iran's Ghasem Rezaei 3-0 at 98kg to claim the world title.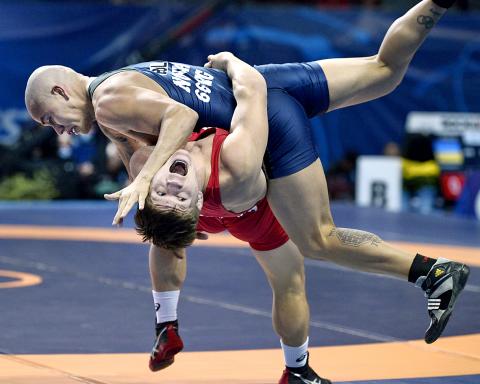 Moldova's Daniel Cataraga, bottom, and Bolivia's Cristian Alberto Nova Roca compete in their men's 66kg Greco-Roman match at the Wrestling World Championships in Las Vegas on Monday.
Photo: EPA
American Andy Bisek won his bronze medal match after earning the US a spot in the Rio Olympics with a top-six finish at 75kg.
Staebler beat top-ranked Serbian Davor Stefanek before defeating Ryu 4-1.
Vlasov, who won worlds in 2011 and the London Olympics in 2012, beat a pair of world champions to reach the finals, where he decisively defeated Madsen 6-0.
The US team, which typically struggles in the Greco-Roman discipline, got off to a torrid start. They won their first five matches, but only Bisek qualified for a medal match.
Bisek went 3-1 in the opening session, losing 9-0 to Madsen before beating Bulgaria's Yavor Yanakiev 1-0 for a spot in the third-place match.
Bisek then beat Iran's Saied Mourad Abdvali 2-0 for his second world bronze in as many years.
Bryce Saddoris, who was not ranked in the top 20 at 66kg, won his first two matches before Staebler beat him in the quarter-finals.
Saddoris took a commanding 4-0 lead in his repechage match, but he got hit in the head and eventually fell 5-4.
The worlds were to continue yesterday, with Greco-Roman titles — and spots in Rio — on the line at 59kg, 71kg, 80kg and 130kg.
Comments will be moderated. Keep comments relevant to the article. Remarks containing abusive and obscene language, personal attacks of any kind or promotion will be removed and the user banned. Final decision will be at the discretion of the Taipei Times.