Chicago celebrates Blackhawks' triumph
The streets and sidewalks of downtown Chicago were a sea of red on Thursday as 2 million fans streamed in for a parade and rally to celebrate the Blackhawks' Stanley Cup championship, the third for the National Hockey League team in six seasons.
Revelers bunched up behind metal barricades, screaming: "Go Hawks," blowing horns and holding up miniature versions of the silver cup to greet Hawks players passing on double-decker buses.
Fans in the US' third-largest city said they were not weary of celebrating yet another championship and came out despite the threat of thunderstorms.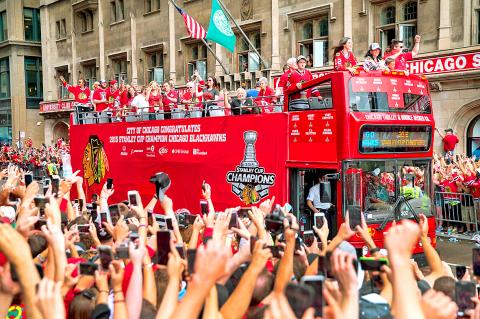 A bus carrying members of the Chicago Blackhawks passes through the city's downtown on Thursday as part of a parade celebrating their Stanley Cup victory.
Photo: AFP
Some said this year's championship, capped by a six-game victory over the Tampa Bay Lightning in the Stanley Cup Final, was even better than in 2010 and 2013, because it followed a tougher road through the regular season and playoffs.
"The fact that it wasn't as easy as the last two, it made it even more special," said Greg Halac, 27, of McHenry, Illinois, north of Chicago, wearing a jersey honoring retired defenseman Chris Chelios.
Fans were also thrilled the team clinched the cup on home ice for the first time since 1938.
The official crowd count for the rally and parade was 2 million, the same as in 2013, city spokeswoman Melissa Stratton said.
This year's rally was at Soldier Field, home of the National Football League's Chicago Bears. Previous celebrations had been held in downtown Grant Park, but recent heavy rains led officials to switch the venue to protect the public park's grass.
The more than 61,000 free tickets at Soldier Field offered on the Internet disappeared within minutes on Wednesday.
Kaitlyn Biesiada of Chicago was unable to get a ticket herself, but got one from a friend.
"Being only 19 and going to two Stanley Cup rallies — that's a pretty awesome experience," she said, snapping cellphone pictures with her girlfriends wearing Blackhawks T-shirts on the region's rapid transit system.
Chicago is known as a big sports town, but championships can be rare. The White Sox baseball team last won it all in 2005, the Bulls basketball team in 1998 and the Bears in 1985. No one beats the dismal record of baseball's Cubs, who last won the World Series in 1908.
With that history, the success of the Blackhawks is that much sweeter, fans said.
"At least we have one good team," 27-year-old Roy Peterson said.
Comments will be moderated. Keep comments relevant to the article. Remarks containing abusive and obscene language, personal attacks of any kind or promotion will be removed and the user banned. Final decision will be at the discretion of the Taipei Times.