Miyama gets Japan off to winning start
'CELEBRATE WITH WIN': Miyama scored on a penalty to win the game for the titleholders. The game was Homare Sawa's 200th cap, and the 150th for Miyama
A first-half penalty converted by captain Aya Miyama got defending champions Japan's Women's World Cup campaign off to a winning start against Switzerland on Monday.
The 29th-minute penalty, awarded after Frankfurt midfielder Kozue Ando was fouled inside the box by Swiss goalie Gaelle Thalmann, was the only goal of the night at Vancouver's BC Place Stadium.
However, it was enough to seal all three points for the Nadeshiko — Japan's nickname and a pink flower symbolizing grace and beauty.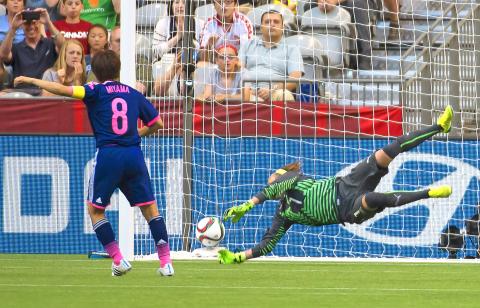 Japan's Aya Miyama, left, sends a shot past Switzerland goalkeeper Gaelle Thalmann during the first half of their FIFA Women's World Cup soccer match in Vancouver, Canada, on Monday.
Photo: Jonathan Hayward / The Canadian Press via AP
The tie marked the 200th cap for veteran Homare Sawa and the 150th for Miyama, who also scored her 37th international goal.
"I'm very happy that Sawa could celebrate her 200th game with a win," Miyama said.
However, coach Norio Sasaki substituted Sawa in the second half with young teammate Yuri Kawamura, at 26 years old, 10 years younger than the former world player of the year.
"She [Sawa] wasn't injured, but I'm using her in a more protected manner," Sasaki said cautiously, of the talisman player who had been hampered by injuries in the past year. "I told her that I would do this."
Despite a strong performance from young Swiss forward Ramona Bachmann, Martina Voss-Tecklenburg's debutants failed to convert any of their chances.
"She's the saddest girl tonight," said Voss-Tecklenburg of 24-year-old Bachmann, who missed a chance just before the break to level, but her drive went just wide. "She's shown on the world stage what she can do, she's a fantastic player."
She again missed another chance after the break after outfoxing three of Japan defenders and goalkeeper Erina Yamane, only to slip on the artificial turf.
The Asian champions went close to doubling their lead midway through the second half, but Yuika Sugasawa's shot hit the post.
Bachmann continued to push forward looking for the winner, but a last-gasp chance went over the bar.
Japan next play Cameroon, who are top of Group C after their 6-0 thrashing of fellow newcomers Ecuador, earlier in Vancouver, and are equal on points with Japan.
"I wish we had played this game in a much cooler manner," Sasaki said. "At the beginning, there was pressure from the Swiss and it was very tense, but we won, that is the most important, and I'm glad that we can send home this news that we won."
Ecuador and Switzerland will be looking for their first points when they play each other on Friday.
CAMEROON-ECUADOR
AFP, VANCOUVER
Striker Gaelle Enganamouit netted a hat-trick to put Cameroon on their way to a 6-0 win over 10-woman Ecuador in a battle between newcomers at the Women's World Cup on Monday.
The Swedish-based player was pivotal for Cameroon, giving them a boost ahead of their next Group C game against titleholders Japan.
"We've been waiting for this qualification for a long time; it means a lot for us to be here," Enganamouit said after a game played before a sparse crowd at Vancouver's BC Place stadium.
"We came here to learn," coach Enow Ngachu added. "It's our first participation, it's history, I can't imagine what is happening back home."
The player from Yaounde, who turns 24 years yesterday, had a role in all her side's goals, setting up Madeleine Ngono Mani to open the floodgates on 34 minutes and two minutes later scored herself.
Ecuador had a chance off an Ambar Torres free-kick, but it was Cameroon who extended their lead before the break as captain Christine Manie slotted home a penalty following a Kerly Real foul in the box.
Enganamouit then helped bring about a red card for Ecuador captain Ligia Moreira for a last-defender foul midway through the second period. She then scored following a cross from Gabrielle Onguene on 73 minutes.
Another penalty was awarded following a handball from substitute Katherine Ortiz and a penalty taken by Onguene, before a third spot-kick in injury time by Enganamouit.
Cameroon now prepare to match their skills against Japan, who play Switzerland later on Monday in Vancouver.
Ecuador next take on Switzerland, on Friday.
Comments will be moderated. Keep comments relevant to the article. Remarks containing abusive and obscene language, personal attacks of any kind or promotion will be removed and the user banned. Final decision will be at the discretion of the Taipei Times.