Beckham effect 'significant' in US
As Major League Soccer (MLS) prepares to open its 20th season, the impact made on the league by former England captain David Beckham during his six years with LA Galaxy is widely viewed as "pretty significant."
Though Beckham's time in the US began unpromisingly, as he was sidelined by injury and then skipped several Galaxy games to play on loan with AC Milan in Italy, his eventual influence on the sport extended well beyond his performances on the field.
The former Manchester United player, who became soccer's first household name in the US since Pele, was instrumental in helping popularize the game in a country where it traditionally struggled for mainstream attention.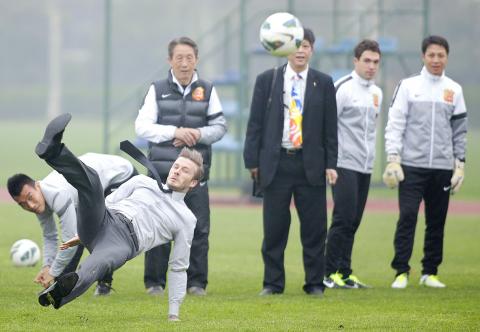 Former England captain David Beckham slips after kicking a ball at a sports field in Wuhan, Hubei Province, China, on March 23, 2013.
Photo: Reuters
Blessed with good looks, a celebrity wife and a talent for self-promotion, Beckham appeared on popular late-night talk shows, in the pages of glossy magazines and broke into sports media empires normally the preserve of NFL and NBA stars.
"Beckham was brought in to bring sex appeal to a Los Angeles team sorely in need of a star," USC Annenberg Institute of Sports, Media and Society director Daniel Durbin said. "As the team representing Hollywood, the Galaxy now had the biggest celebrity in soccer and someone who regularly appeared on sexiest man alive lists and who was married to one of the Spice Girls. You can't get much more Hollywood than that."
"Beckham was a perfect match for that environment," Durbin said. "It turned out even better than expected with LA having a very strong team and MLS starting to pick up a fanatical fan base, especially in the Northwest and particularly in Portland, Oregon."
Since 2006, the league has expanded from 12 teams to 20 and average attendance grew by over 3,000 during the Beckham era, while clubs invested in purpose-built stadiums rather than playing, as Pele did, in NFL arenas often with artificial turf.
Average attendance at MLS matches often exceeds that in the National Basketball Association and National Hockey League.
"Beckham helped bring a higher level of visibility and much greater star power to the MLS," Durbin said. "He couldn't single-handedly change the Galaxy, or the whole of MLS for that matter, into Manchester United or FC Barcelona, but he could and did bring international soccer celebrity to the MLS and that was a tremendous boost for the league."
"The higher visibility also helped create a stage for soccer to become more popular across the US," he said. "While soccer would likely have taken off in Portland, for instance, without Beckham, he certainly helped raise the level of interest, conversation and consciousness regarding the league. He had a pretty significant impact."
Beckham's US adventure began in 2007 when he was formally introduced as a Galaxy player at their home stadium and it ended in 2012 after he helped his team to a second successive MLS Cup.
"The measurement is pretty clear from 2007 on — how the league has grown, with the number of franchises, how attendance has grown, how the league has been recognized around the world," Galaxy coach Bruce Arena said of Beckham's impact on the league. "Locally, the Galaxy have grown our brand, we have won championships. What more can you say? Those are pretty impressive credentials for anyone."
Former US international Landon Donovan, who played alongside Beckham with the Galaxy, experienced the "Beckham effect" more than most.
"He greatly helped my career and the success of our team, but on a bigger scale, it's what he's meant for the game of soccer generally ... and specifically what he's meant for the game of soccer here in America," Donovan said. "Before David came and someone walked down the street and you said: 'I play for LA Galaxy,' they would say: 'Who's that?' After David left, if you say you play for LA Galaxy, people reply: 'That's amazing.'"
"The level of awareness he has brought has been priceless for us," Donovan said.
Comments will be moderated. Keep comments relevant to the article. Remarks containing abusive and obscene language, personal attacks of any kind or promotion will be removed and the user banned. Final decision will be at the discretion of the Taipei Times.