Panthers, Ravens secure playoff spots
CAPTAIN RODGERS: The teams snapped up the last two berths, while Green Bay's Aaron Rodgers led the Packers to a 30-20 win over Detroit, despite a left leg injury
Baltimore and Carolina captured the last two National Football League (NFL) playoff spots with victories on Sunday, while Aaron Rodgers shook off a calf injury to spark a crucial Green Bay triumph.
Carolina routed host Atlanta 34-3 in a matchup of teams with losing records for the NFC South division crown, while Baltimore downed Cleveland 20-10 and took the last American Conference wildcard playoff spot after San Diego lost 19-7 at Kansas City.
Rodgers returned from a second-quarter left calf injury late to run for one touchdown and throw for another in the second half to push hosts Packers over Detroit 30-20.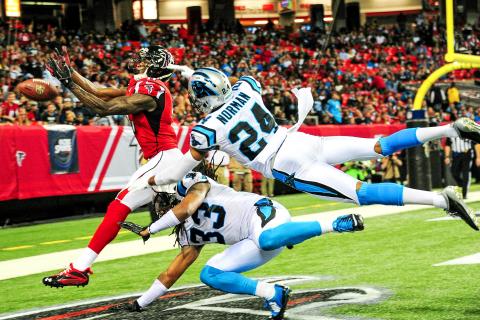 Josh Norman, top right, and Tre Boston, bottom right, of the Carolina Panthers break up a pass intended for Julio Jones of the Atlanta Falcons in the second half of their NFL game at the Georgia Dome in Atlanta, Georgia, on Sunday.
Photo: AFP
Aggravating the injury was Detroit's Ndamukong Suh stepping on Rodgers' left leg twice late in the game, actions the league says it will review for possible disciplinary action.
With the victory, Green Bay claimed the NFC North crown over the Lions and earned a first-round playoff bye on the final day of the NFL regular season.
Defending Super Bowl champions Seattle defeated visiting St Louis 20-6 for a sixth win in a row to finish 12-4 and claim the top seed in the National Conference playoffs, including a first-round bye and home-field advantage, with Green Bay (12-4) taking the second seed.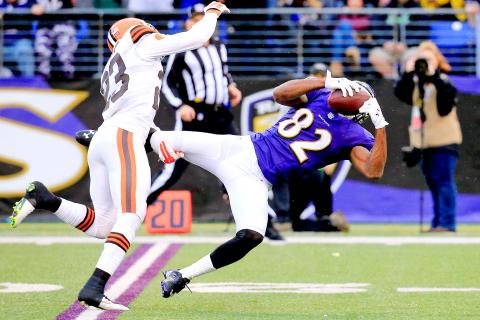 Wide receiver Torrey Smith of the Baltimore Ravens, right, makes a fourth-quarter catch past cornerback Joe Haden of the Cleveland Browns on Sunday in Baltimore, Maryland.
Photo: AFP
Next weekend's first-round National Conference playoff games will find Detroit (11-5) at Dallas (12-4) on Sunday and Arizona (11-5) at Carolina (7-8-1) on Saturday.
In the American Conference playoffs, New England (12-4) have the top seed, with Denver (12-4) second after a 47-14 rout of Oakland and both took first-round byes.
Next weekend's American Conference playoff matchups were decided in the final contest when Pittsburgh defeated visiting Cincinnati 27-17 in a showdown for the AFC North crown.
The Steelers (11-5) are to host Baltimore (10-6) on Saturday, while Cincinnati (10-5-1) will visit Indianapolis (11-5) on Sunday.
Pittsburgh's Ben Roethlisberger threw two touchdown passes, one of them a 63-yard connection to Antonio Brown, who opened the scoring on a 71-yard punt return touchdown. However, the Steelers lost running back Le'Veon Bell to a knee injury in the third quarter that could be a major playoff setback.
In Atlanta, Cam Newton ran for one touchdown and threw for another, while Roman Harper and Tre Boston returned interceptions for touchdowns to spark the Panthers' victory over the Falcons. Carolina edged New Orleans (7-9) for the division crown and joined Seattle in 2010 as the only clubs with losing records to reach the playoffs.
In Baltimore, Joe Flacco threw two fourth-quarter touchdown passes to rally hosts Ravens past the Browns. A loss by San Diego, which would have advanced instead with a victory, put Baltimore in the playoffs for the sixth time in seven seasons.
Flacco connected with Torrey Smith on a 16-yard touchdown pass and a two-yard scoring toss to Kamar Aiken as the Ravens netted the game's final 17 points.
"Anything is possible in the playoffs," Flacco said. "We've just got to go in there and have some confidence."
In Kansas City, Cairo Santos kicked four field goals and Travis Kelce recovered a fumble in the end zone for a touchdown to power the Chiefs, whose long-shot playoff hopes ended with Baltimore's win.
"We came out and battled our butts off," Chiefs quarterback Chase Daniel said. "It's good to go out with a notable win."
Another losing team with something to cheer was Tampa Bay, as the Buccaneers clinched the top pick in next year's NFL Draft with a 23-20 home loss to New Orleans.
At a league-worst 2-14, the Bucs will have the first pick in the annual allocation of rights for incoming NFL talent.
New England lost 17-9 at home to Buffalo, but the Patriots had already clinched a top playoff seed.
The Bills ended a 13-year losing streak at New England to finish 9-7, but missed the playoffs for a 15th consecutive season, the longest active drought in the NFL.
Comments will be moderated. Keep comments relevant to the article. Remarks containing abusive and obscene language, personal attacks of any kind or promotion will be removed and the user banned. Final decision will be at the discretion of the Taipei Times.