Guilty plea entered in Puig smuggling case
MAJOR LEAGUES
A South Florida businessman pleaded guilty on Tuesday to taking part in a conspiracy to smuggle Los Angeles Dodgers star Yasiel Puig out of Cuba in return for a sizable cut of the outfielder's multimillion-dollar salary.
Gilberto Suarez, 40, entered the plea before US District Judge Robert Scola, who set a March 6 sentencing date. The alien smuggling conspiracy charge carries a maximum of 10 years in prison, although Suarez is likely to get a more lenient sentence under his plea deal with prosecutors.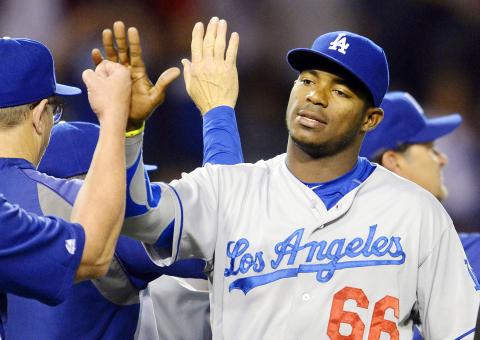 Los Angeles Dodgers center fielder Yasiel Puig walks off the field after their game against the Los Angeles Angels at Angel Stadium in Anaheim, California, on Aug. 7.
Photo: USA TODAY
Investigators and court documents say Suarez was one of the Miami-based financiers of the 2012 smuggling venture in which Puig was taken by boat from Cuba to a fishing village near Cancun, Mexico, eventually crossing into the US at Brownsville, Texas, on July 3 that year. In return, the financiers were getting a percentage of the seven-year, US$42 million contract Puig signed with the Dodgers.
Court documents show Suarez got US$2.5 million from Puig's contract. He agreed with prosecutors to forfeit a house, a condominium and a Mercedes-Benz to the government that are traceable to the money from Puig. Suarez also is forfeiting several guns.
The plea deal also requires Suarez to give up any interest in another Cuban player's contract, shortstop Aldemys Diaz, a minor leaguer in the St Louis Cardinals' system. The court documents do not provide any details on Diaz's defection or whether Suarez played a role in it.
Initially the players were only identified by their initials in court documents, but Scola made sure Assistant US Attorney Ron Davidson put their names in the public record.
"It's pretty much the worst kept secret in the world," Scola said.
The plea is the second in Miami federal court this year involving the smuggling of a Cuban baseball player into the US. Last month, 41-year-old Eliezer Lazo was sentenced to 14 years in federal prison for conspiring to smuggle 1,000 Cubans, including baseball players such as Texas Rangers outfielder Leonys Martin.
In that case, court documents detailed how Cuban human smuggling ventures through Mexico must pay fees and tribute to cocaine trafficking cartels, such as the Zetas gang.
Under the US "wet foot, dry foot" policy, Cubans who make it to US soil are generally allowed to remain, while those intercepted at sea are returned to the communist island.
For Cuban baseball players, there is an added incentive to go through a third country such as Mexico before signing a Major League Baseball contract. If they come directly to the US, they would be subject to the MLB draft and likely sign a less lucrative deal. Going to Mexico first makes them free agents who can sign with the highest bidder.
Last season, the 24-year-old Puig hit 0.296 with 16 home runs and 69 runs batted in. In his first season, Puig finished second in voting for National League rookie of the year.
Comments will be moderated. Keep comments relevant to the article. Remarks containing abusive and obscene language, personal attacks of any kind or promotion will be removed and the user banned. Final decision will be at the discretion of the Taipei Times.