Caen president charged, Marseille officials released
The president of Ligue 1 side Stade Malherbe Caen Calvados was charged on Thursday in connection with a match-fixing inquiry that has rocked French soccer, his lawyer told reporters.
In a separate development, Olympique de Marseille president Vincent Labrune and about 15 club officials detained since Tuesday as part of a transfer fraud probe, were released without charge.
Labrune's predecessors, Jean-Claude Dassier and Pape Diouf, were freed on Wednesday.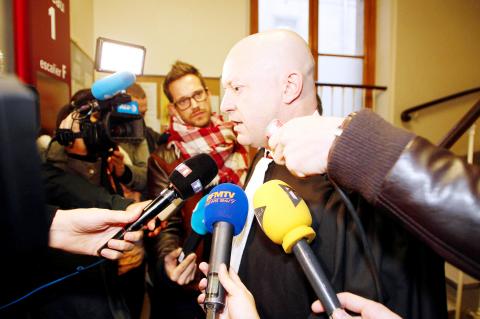 Francois Gery, lawyer of the president of French soccer club Caen Jean-Francois Fortin, answers journalists' questions at a Paris courthouse on Thursday.
Photo: AFP
As police later questioned more staff from the Ligue 1 leaders, the lawyer of Caen boss Jean-Francois Fortin was proclaiming his client's innocence.
Fortin is accused of corruption as investigators scrutinize a series of matches, notably a 1-1 draw between Stade Malherbe Caen and Nimes Olympique on May 13 that saw the former promoted to Ligue 1 and the latter escape relegation to the third tier.
Recordings of phone conversations between leading figures of several clubs form a key part of the evidence.
Magistrates have been trying to establish if pressure was exerted by Nimes on other Ligue 2 teams as the club battled against relegation.
Following 48 hours in custody, Fortin was charged after appearing before examining magistrates along with Nimes' main shareholder, Serge Kasparian, Nimes president Jean-Marc Conrad and Michel Moulin, described as "an intermediary."
Fortin's lawyer, Francois Gery, insisted said: "My client has shown his complete innocence of the facts that he is accused of in this case."
Dijon coach Olivier Dall'Oglio was released without charge on Wednesday evening, as was Kasparian's son.
The Canard Enchaine weekly on Wednesday released a transcript of a telephone conversation between Fortin and Conrad that it said was made by police.
In the recording, Fortin says: "You need a point as well?"
Conrad replied: "Yes, we need a point too, there it is."
The Caen president then says: "Well, if we are not too stupid?"
The weekly said that 24 boxes of wine, 288 bottles, were left outside the Caen dressing room after the game.
Meanwhile, down on the south coast, the raids that led to the mass arrests on Tuesday of high-ranking Marseille officials have so far led to no charges being brought.
Police are looking into various transfers, including that of key striker Andre-Pierre Gignac from Toulouse to Marseille in 2010.
A police source told reporters that Marseille appeared to be "more of a victim" in the scandal that has embarrassed the famous French side as they lead holders Paris Saint-Germain in the title race.
Suspicions of extortion, money-laundering, fraud and conspiracy with underworld gangs are being investigated.
Sources close to the investigation said gangland figures were suspected of receiving commission from several major transfers, including that of France World Cup player Gignac and Senegal international Souleymane Diawara.
Diawara joined in 2009 from Girondins de Bordeaux and left this year for OGC Nice.
Diouf, who stood down as club president in 2009, emerged from custody to tell a press conference: "I've got absolutely nothing to blame myself for. My interviewers were more put out than I was."
Comments will be moderated. Keep comments relevant to the article. Remarks containing abusive and obscene language, personal attacks of any kind or promotion will be removed and the user banned. Final decision will be at the discretion of the Taipei Times.