Bryant leads Lakers to precious win in Atlanta
'ROUGH START': Bryant put his struggling side in front through a critical shot with less than two minutes left to give the LA club only their second victory of the season
Kobe Bryant scored 28 points as the Los Angeles Lakers won for only the second time this season, beating the Atlanta Hawks 114-109 on Tuesday.
Bryant's biggest shot came with 1 minute, 11 seconds remaining, when he backed in against Thabo Sefolosha and made a fadeaway jumper, despite being fouled. Bryant completed the three-point play, giving the Lakers a 108-102 lead.
The Hawks had a chance to force overtime after the Lakers (2-9) failed to put it away at the line.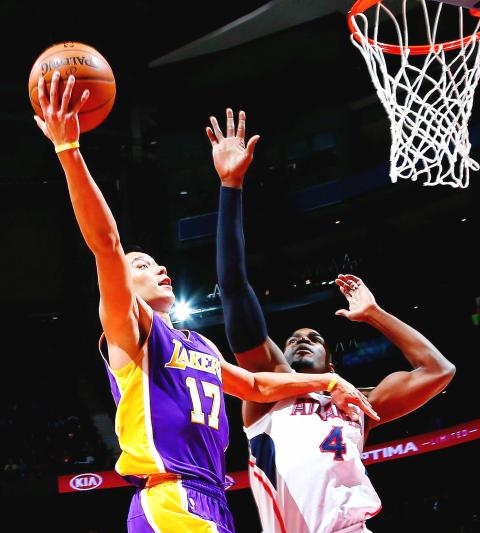 Jeremy Lin of the Los Angeles Lakers, left, shoots against Paul Millsap of the Atlanta Hawks at the Philips Arena in Atlanta, Georgia, on Tuesday.
Photo: AFP
However, Los Angeles smothered long-range threat Kyle Korver, leaving Pero Antic to take an open three-pointer. It clanked off the rim and the Lakers grabbed the loose ball to seal the victory.
"Man, oh man, that's a lot better,'' Lakers point guard Jeremy Lin said. "It's been a rough start to the season.''
Paul Millsap led Atlanta with 29 points.
Milwaukee Bucks guard Brandon Knight, center right, battles New York Knicks forward Amar'e Stoudemire, center left, for a rebound in the second half of their NBA game at the BMO Harris Bradley Center in Milwaukee, Wisconsin, on Tuesday.
Photo: EPA
Carlos Boozer added 20 points for the Lakers, while Nick Young, coming back from a thumb injury, had 17 in his first game of the season.
BUCKS 117, KNICKS 113
In Milwaukee, Wisconsin, Ersan Ilyasova had 20 points as the rebuilding Bucks beat the Knicks to lift their record above .500 for the first time in more than a year.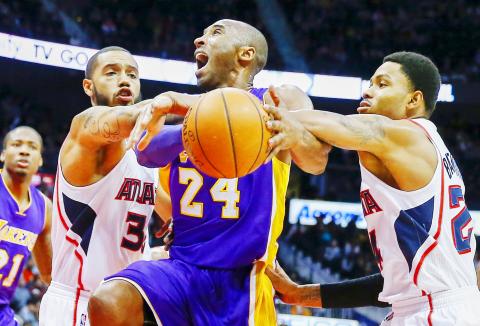 Los Angeles Lakers guard Kobe Bryant, center, loses the ball in between Atlanta Hawks forward Mike Scott, left, and Hawks guard Kent Bazemore in the first half of their NBA game on Tuesday at the Philips Arena in Atlanta, Georgia.
Photo: EPA
Zaza Pachulia added season highs of 14 points and 13 rebounds for Milwaukee, who improved to 6-5 for the year. It was the first time the team has had a winning record since March 20 last year, when they were 34-33.
New York cut a 26-point deficit to 115-113 with 7.9 seconds left, but Milwaukee managed to hold on.
Carmelo Anthony had 26 points for the Knicks and Tim Hardaway Jr scored 24.
The balanced Bucks had seven players score in double figures.
JAZZ 98, THUNDER 81
In Salt Lake City, Utah, Alec Burks had 20 points and a career-high 14 rebounds as the Jazz beat the reeling Thunder.
Enes Kanter added 16 points and a season-high 15 boards for Utah, who enjoyed a 55-44 edge on the glass. Trey Burke scored 11 of his 17 points in the second half and finished with nine assists.
Oklahoma City have lost three straight and seven of nine.
Jeremy Lamb led the Thunder with 19 points, while Steven Adams had 11 points and eight rebounds.
Playing without the injured Kevin Durant and Russell Westbrook, Oklahoma City shot 35.7 percent (30 for 84) from the field.
PELICANS 106, KINGS 100
In Sacramento, California, Anthony Davis had 28 points and nine rebounds to lead the Pelicans past the Kings in a matchup between two of the Western Conference's most surprising teams this season.
Ryan Anderson hit four three-pointers and scored 22 points for the Pelicans, who outscored the Kings 31-15 in the third and improved to 6-4 for the year.
Tyreke Evans had 18 points and Eric Gordon scored 17.
DeMarcus Cousins had 24 points and 17 rebounds for Sacramento, who dropped to 3-2 at home. Darren Collison added 13 points and 11 assists.
Comments will be moderated. Keep comments relevant to the article. Remarks containing abusive and obscene language, personal attacks of any kind or promotion will be removed and the user banned. Final decision will be at the discretion of the Taipei Times.