ASIAN GAMES: Japan 'calm' after Chinese swimmer calls anthem 'ugly'
Japanese swimmers and officials at the Asian Games refused to get drawn into a political row yesterday after China's Sun Yang called Japan's national anthem "ugly."
Japan head coach Takayuki Umehara told reporters there had been no angry reaction to Olympic champion Sun telling Chinese media: "The Japanese national anthem sounds ugly."
"It is a very delicate issue and we didn't hear what he said directly so it's difficult to comment, but what is fact is that there is no agitation or signs of the swimmers being upset," Umehara said. "We have come here to swim and the athletes do not get involved in issues beyond swimming. The [Japanese] swimmers who interact with Sun and know his personality have decided that there wasn't any malice in what was said."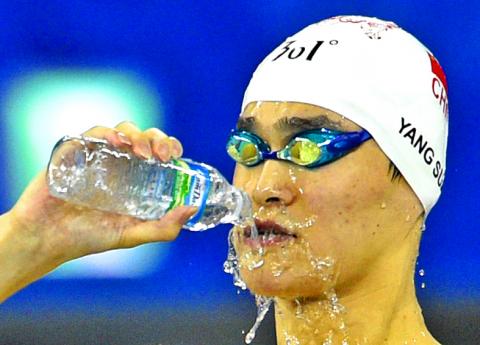 China's Sun Yang prepares for the 1,500m freestyle fast heat at the Asian Games in Incheon, South Korea, yesterday.
Photo: AFP
"Sun Yang is not the only swimmer to say things on the spur of the moment," Umehara said. "We are here to fight for medals and you have to be up for the battle. But we have instructed our athletes about the importance of sportsmanship."
"Sportsmanship might mean different things in other countries, but clearly anything touching on the subject of the national anthem is a delicate," he added.
Sun took a potshot at the Japanese anthem after helping China's 4x100m freestyle relay team beat their Japan rivals on Wednesday.
Japan's male swimmers have largely got the better of the Chinese in South Korea.
"We are not worried [about the remarks]," Japanese Olympic Committee international relations director Yasuhiro Nakamori said. "Japan will respect the Asian Games vision and continue to compete in the spirit of Asian harmony."
Comments will be moderated. Keep comments relevant to the article. Remarks containing abusive and obscene language, personal attacks of any kind or promotion will be removed and the user banned. Final decision will be at the discretion of the Taipei Times.