Serena and Venus to clash in Montreal semi-finals
Serena and Venus Williams were to clash in the semi-finals of the Montreal WTA tournament after the US sisters battled through tough three-setters in the quarter-finals on Friday.
World No. 1 Serena outlasted Caroline Wozniacki to clinch a 4-6, 7-5, 7-5 victory, while Venus also came from a set down to end the run of Spanish 14th seed Carla Suarez Navarro, the third-round conqueror of Maria Sharapova, 4-6, 6-2, 6-3.
This is the 25th meeting between the two as Serena was to take a 14-10 career lead in into yesterday's match. The 32-year-old has won their past five meetings as Venus has failed to beat her younger sister since a three-set victory in Dubai five years ago.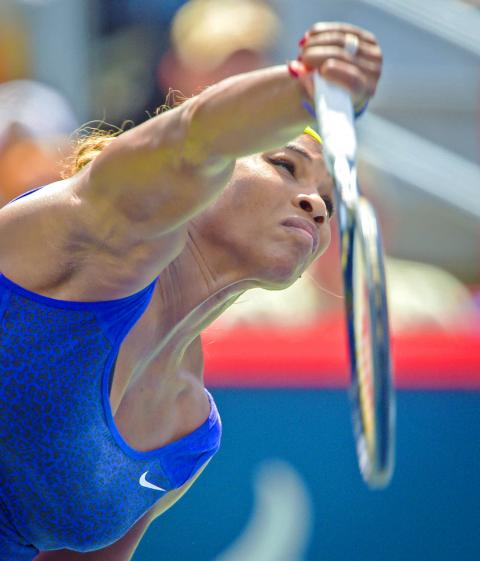 Serena Williams of the US serves against Caroline Wozniacki of Denmark during their quarter-final match at the Rogers Cup women tennis tournament in Montreal, Canada, on Friday.
Photo: EPA
Despite her recent success, Serena on Friday said she dreads playing her sister.
"I definitely don't like playing her," said Serena, who won their most recent match 6-1, 6-2 last year in Charleston. "I think I've lost to her more than anyone on the tour. Definitely not a fun match. But she's tough. She has a great serve. She runs every ball down. She has a great backhand. She hits winners off the forehand."
Serena also on Friday said that she is surprised to still be playing competitively in her 30s.
"I definitely didn't see myself playing tennis at my age," Serena said. "I just thought I would have been gone doing other things, but it just so happens that I love to play, I love to compete. I just can't give it up."
Venus, who has had health troubles the past few years, said she would be better prepared for yesterday's semi-final.
"I'll be able to make it more competitive," she said.
She told reporters on Friday that the night before a tough match she likes to dance for 30 minutes because it relaxes her.
"Not at a club. No, I just do a little jazz and a little ballet," Venus said. "I'm not great, but I love to dance. I'll just dance a little and see what happens. Just a little bit and try and relax.
"I can't get into the details. It's like Fame. Have you ever seen that?" she said.
The other semi-final was to see third seeded Agnieszka Radwanska face Russian Ekaterina Makarova.
Serena, who lifted her third Canadian crown last year when the tournament was held in Toronto, battled back from a set and a break down to claim victory over Wozniacki in 2 hours, 41 minutes.
"When you play someone like Caroline or other opponents, you know your match might be a little longer than normal," said Serena, who extended her career head-to-head record over the 13th-ranked Dane to 7-1. "You go in there thinking this is not going to be routine. You have to be ready."
Wozniacki, a former world No. 1 who is seeded 11th, claimed her only victory over the US star in the quarter-finals at Miami in 2012.
Wozniacki had been riding an eight-match winning streak, including a title in Istanbul, Turkey, last month.
"It was really the small things that I did out there today," Wozniacki said. "She came up with quite a few big serves when she needed to. It could have gone both ways."
Serena claimed her fourth title of the year at Stanford on Sunday last week, but she has disappointed in the majors this year, failing to add to her cache of 17 Grand Slam titles.
She is to get a last chance of the year to do so at the US Open, which starts in Flushing Meadows on Aug. 25.
As she has in many of her recent matches, Serena got off to a slow start against Wozniacki and the Dane was soon up 6-4, 4-2.
With the aid of an improved serve — which yielded a total of 15 aces in the match, Serena began to assert herself.
"I am definitely fit," Serena said. "I feel like I am ready to go the long haul. I needed to feel that and get some three-set wins under my belt."
Comments will be moderated. Keep comments relevant to the article. Remarks containing abusive and obscene language, personal attacks of any kind or promotion will be removed and the user banned. Final decision will be at the discretion of the Taipei Times.