Hopkins, 49, aims to unify boxing world titles
Nine months shy of his 50th birthday, Bernard Hopkins is to try to become the oldest boxer to unify world titles when he faces Kazakhstan's Beibut Shumenov tomorrow.
Hopkins, already the oldest fighter to win a world title, defends his International Boxing Federation light-heavyweight crown against the 30-year-old World Boxing Association champion.
"This is a defense of my legacy," Hopkins said. "I don't want anybody to take a piece of my legacy away."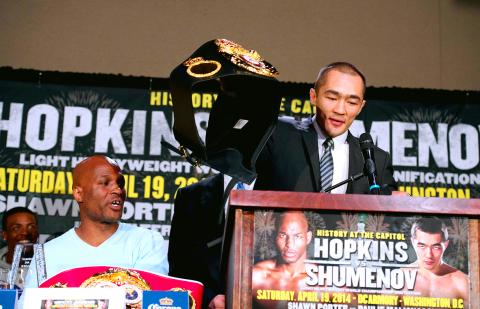 Beibut Shumenov of Kazakhstan, right, takes his title belt back from Bernard Hopkins of the US, left, as they hold a press conference in Washington on Thursday ahead of their light heavyweight unification title fight today.
Photo: AFP
"Belts are nice. They are great for a younger fighter. I'm defending something bigger than that. I'm defending my legacy. That's more important than anything I can put around my waist," he added.
Hopkins hopes to fight for an undisputed world title near his 50th birthday against World Boxing Council champion Adonis Stevenson, a Haitian-born Canadian southpaw who defends his crown on May 17 against Poland's Andrzej Fonfara.
However, he must first get past Shumenov, although Hopkins landed the first mental blows on Thursday in a final news conference after accepting a plaque from Joe Frazier's family for helping fund a statue of the late heavyweight legend.
"Joe Frazier lives through me," Hopkins said.
Hopkins then began his remarks by taking Shumenov's title belt from him in front of his seated rival and moving it to his side of the podium.
"Since we're collecting good awards and achievements, I had better take this now," Hopkins said.
It stayed there as Hopkins made lengthy remarks and only after the US legend was done talking did the usually softspoken Shumenov rise to reach over to reclaim his property.
"I got him up. He's got a pulse," Hopkins said. "Just what I wanted. He's alive. Alive."
Shumenov issued Hopkins a warning of his own.
"You are mistaken if you think I think I'm fighting a 50-year-old," Shumenov said. "It's not the most important thing for me, the money."
"I'm fighting for the glory to be acknowledged as the best. I'm not seeking future fights. I'm ready to die to get the victory. On Saturday night, we will see who is taking whose belts," he added.
Hopkins, 54-6 with two drawn and 32 knockouts, said later he was happy to have annoyed Shumenov, 14-1 with nine knockouts.
"The damage is done," he said. "When I started talking, he should have taken it back. It don't matter what he says. Let's see how he handles it. I know he is coming to fight. He will bring out the best in me," he said.
Hopkins also dismissed Shumenov as a rich guy fighting as a hobby, while speaking of his poor upbringing on the streets of Philadelphia.
"This is not a hobby. This is a bloodsport," Hopkins said. "When you fight as a hobby, this isn't a sport where you last too long. I'm doing it because I had to. He's doing it because he wants to."
Hopkins also taunted Shumenov's relative lack of experience, the American having been a professional boxer when the Kazak fighter was only five years old.
"Get ready for school, student," Hopkins said. "I'm the professor and I'm going to teach you. 'How can a 50-year-old man beat me like that?' It's not the physical beat down. It's the mental one."
Shumenov appeared unfazed by Hopkins and paid tribute to the legend, who has been winning fights for 25 years.
"This is the kind of moment I have been dreaming of all my life," Shumenov said.
"All the preparation has been done. I'm fighting a legend who has beaten legends," he added.
Comments will be moderated. Keep comments relevant to the article. Remarks containing abusive and obscene language, personal attacks of any kind or promotion will be removed and the user banned. Final decision will be at the discretion of the Taipei Times.