Jack scores 31, Cavs end Knicks' streak
SLOPPY FINISH: The Knicks led by 17 after the first half, but they had a terrible final period, while the Nuggets managed to edge the Wizards, despite a raft of injuries
Jarrett Jack scored a season-high 31 points as the Cleveland Cavaliers won 106-100 in the NBA on Sunday to end the eight-game winning streak of the New York Knicks.
The Knicks wasted a chance to pull within two games of the Atlanta Hawks for the final playoff spot in the Eastern Conference.
Hours after Atlanta blew a fourth-quarter lead in Toronto, the Knicks responded with an inept final period of their own after they led by 17 points in the first half.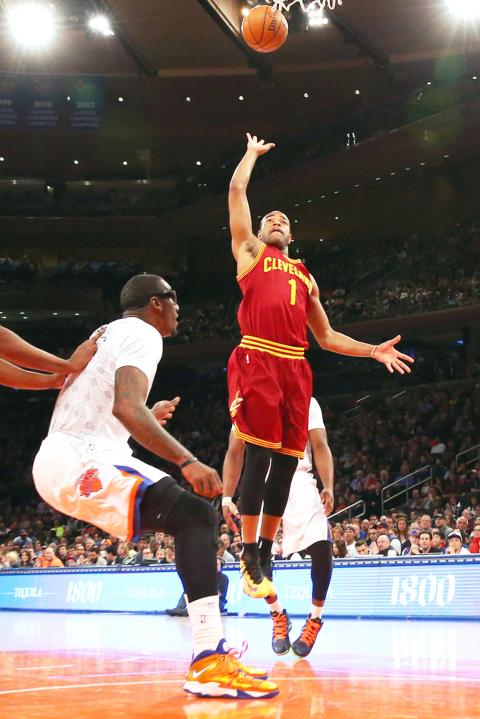 Cleveland Cavaliers guard Jarrett Jack, right, shoots the ball during the first quarter against the New York Knicks at Madison Square Garden in New York on Sunday.
Photo: USA TODAY
They could not stop Jack and could not get a basket from Carmelo Anthony, who missed all five shots in the final period and finished with 32 points.
Jack scored 23 in the second half and finished with 10 assists for the Cavaliers, who ended a four-game losing streak.
NUGGETS 105, WIZARDS 102
In Denver, Kenneth Faried had 20 points and Aaron Brooks hit four straight free throws in the final 12 seconds, helping injury-riddled Denver hold off Washington.
Randy Foye added 17 for a Nuggets team that was missing J.J. Hickson, who suffered a torn ligament in his right knee Friday. Wilson Chandler also did not play (strained left hip) and Jan Vesely did not return after bruising his rib cage late in the third quarter.
Bradley Beal scored 21 points as the Wizards wrapped up a four-game Western road swing with a 1-3 record. Trevor Ariza scored 15 of his 18 points in the first quarter and John Wall added 15, but also had eight turnovers.
Hickson was the latest player to be lost by the Nuggets. They were already without Danilo Gallinari (left ACL), JaVale McGee (broken tibia) and Nate Robinson (left ACL), who all have undergone season-ending operations.
RAPTORS 96, HAWKS 86
In Toronto, Kyle Lowry scored 25 points and Jonas Valanciunas had 13 points and 13 rebounds as Toronto beat Atlanta.
DeMar DeRozan scored 21 points, Greivis Vasquez had 12 and Terrence Ross 10 as the Raptors avoided their first three-game home losing streak since dropping games against Brooklyn, Miami and Denver between Nov. 26 and Dec. 1 last year.
Toronto fell in double-overtime to Oklahoma City on Friday and lost to Phoenix on Sunday last week.
Lowry, who had 13 points as Toronto erased an 11-point deficit in the fourth quarter, has scored 19 points or more in a career-high nine consecutive games.
DeMarre Carroll and Paul Millsap each scored 17 as the Hawks lost their second straight following a five-game winning streak.
Atlanta failed to win a third straight road game after losing their previous 10 away from home.
SUNS 127, TIMBERWOLVES 120
In Minneapolis, Markieff Morris scored 25 points off the bench to lead Phoenix to their biggest comeback of the season.
Phoenix trailed by 22 in the first half, but shot a season-high 57 percent from the floor to overcome Kevin Love's 36 points and 14 rebounds.
Love fell an assist short of a triple-double and committed a crucial turnover in the final minute.
With the game tied at 118, Love lost the ball in the paint and Eric Bledsoe made a fast-break layup.
Gerald Green, Bledsoe and P.J. Tucker each hit a pair of free throws in the closing seconds to help the Suns pull within a half-game of Memphis and Dallas for one of the last two playoff spots in the tight Western Conference.
The Suns tied a season high by allowing 41 points in the first quarter and trailed 103-93 heading in the final period, but they outscored the Wolves 34-17 in the fourth quarter.
Meanwhile, Minnesota blew their largest lead of the season.
In other NBA action, it was:
‧ Kings 124, Bucks 107
‧ Nets 107, Mavericks 104, Ot
‧ Lakers 103, Magic 94
Comments will be moderated. Keep comments relevant to the article. Remarks containing abusive and obscene language, personal attacks of any kind or promotion will be removed and the user banned. Final decision will be at the discretion of the Taipei Times.