US-born Wild wins Russia slalom gold
GOLDEN COUPLE: Wild's medal and Russian spouse Zavarzina's bronze in the women's event delighted a home crowd that feted the duo at the flower ceremony
Vic Wild and wife Alena Zavarzina now have some new jewelry to match their wedding rings, after both won Olympic medals in yesterday's Sochi Winter Olympics action.
Wild rolled to victory in the men's snowboarding parallel giant slalom, ripping past silver medalist Nevin Galmarini in the second run of the finals to win gold for his adopted country, Russia, while Zan Kosir of Slovenia took the bronze.
Wild's triumph came just minutes after his wife had raced to bronze in the women's event.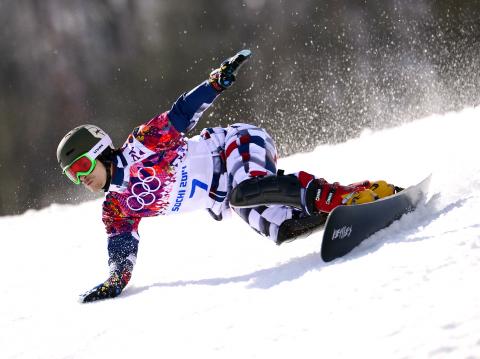 Vic Wild of Russia yesterday competes in the men's snowboard parallel giant slalom quarter-final on his way to winning the gold medal at the Rosa Khutor Extreme Park during the Sochi Winter Olympics in Russia.
Photo: AFP
Patrizia Kummer gave Switzerland their sixth gold medal in Sochi when Japan's Tomoka Takeuchi lost an edge halfway through the second run of the women's final.
Kummer narrowly edged Zavarzina in the semi-finals of the women's event and was in the clear when Takeuchi lost control.
However, Zavarzina had little trouble in the consolation round, beating Ina Meschik of Austria by nearly one second for bronze.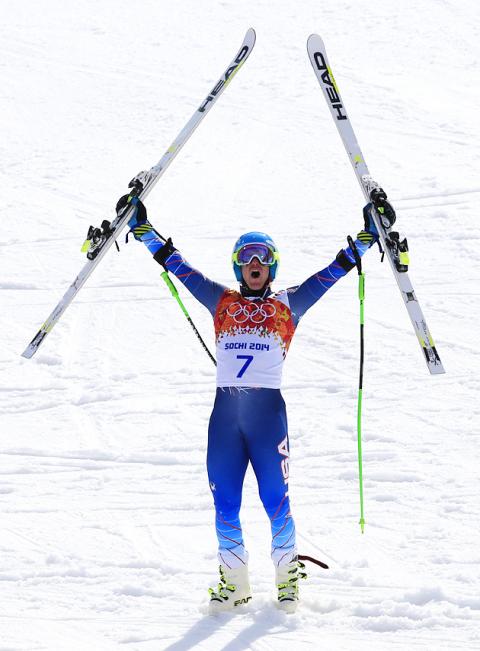 US skier Ted Ligety yesterday celebrates winning run two of the Winter Olympics men's alpine skiing giant slalom at the Rosa Khutor Alpine Center in Russia.
Photo: AFP
Afterward, the Russian sprinted to embrace her husband after he captured the gold while a large, heavily pro-Russian crowd waved flags and roared their appreciation.
After weeks of warm sunshine, a front that moved through on Tuesday dumped a fresh batch of snow. Officials tried to protect the course, but it was a hard mess in which the racers struggled with their lines as they rolled from gate to gate.
Wild nearly washed out twice in the first finals run, barely holding on after his board seemed ready to tip over. Moving from the blue course to the seemingly faster red course for the second run, he overcame the 0.54 second deficit he faced with relative ease.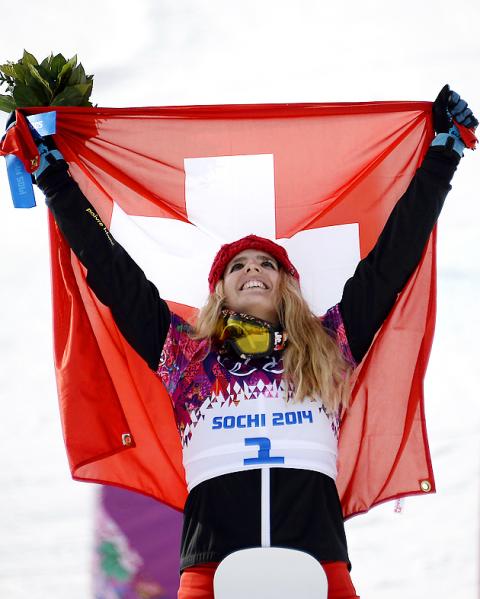 Switzerland's Patrizia Kummer smiles after winning gold in the women's snowboard parallel giant slalom yesterday at the Sochi Games in Rosa Khutor, Russia.
Photo: Reuters
Upon completing the course, he thrust his arms skyward in jubilation, leading to the unusual sight of an American born near the end of the Cold War being showered with adoration from a highly partisan home crowd of Russian fans.
Following the flower ceremony, Wild and his wife stood side by side holding a massive Russian flag and drinking in the moment.
The victory capped a career revival for Wild, who grew up in White Salmon, Washington, but applied for Russian citizenship after marrying Zavarzina in 2011. He joined the Russian snowboarding team and praised his new country for its investment in the sport that is snowboarding's answer to Alpine skiing.
Wild has repaid his new home in full. The 27-year-old placed third at last year's world championships and was easily the best on a challenging day at Rosa Khutor Extreme Park.
An American also claimed the gold at the Alpine skiing men's giant slalom yesterday, after Ted Ligety turned in a dominating performance to become the first US man to win two Olympic gold medals in Alpine skiing.
Leading after the first run, Ligety sped down the Rosa Khutor course in a two-leg combined time of 2 minutes, 45.29 seconds.
Steve Missillier of France stood only 10th after the first run, but had the fastest second leg to finish second 0.48 behind, while Alexis Pinturault, another Frenchman and one of Ligety's chief rivals in recent seasons, was 0.64 further back in third.
Overall World Cup leader Marcel Hirscher of Austria finished fourth 0.94 back, but will be the favorite for Saturday's slalom.
Ligety had such a large lead after the opening run — 0.93 seconds — that he could afford to ease up a bit on his second trip down and he was only 14th fastest in the afternoon leg.
Yet that was more than enough to give the US their first gold in Alpine skiing of the Sochi Games.
In both runs, Ligety showed off his unparalleled technique of arcing turns, leaning down and touching the snow with his hips, gloves and thighs to get the best angles.
"I think he's one of the best GS [giant slalom] skiers in history," said former US gold medalist Bode Miller, who was 20th in what he said was his final race in Sochi. "He's so much better at it than everybody else... He just is so consistent. He makes no errors and anybody who's trying to cut off line just ends up making mistakes and it makes a huge gap."
Also yesterday, Finland and Norway won respective golds in the men's and women's team sprint classic cross-country events as Scandinavian countries took five of the six medals.
Finland was followed by Russia and Sweden in the men's race, while taking silver in the women's event, with Sweden earning the bronze.
Comments will be moderated. Keep comments relevant to the article. Remarks containing abusive and obscene language, personal attacks of any kind or promotion will be removed and the user banned. Final decision will be at the discretion of the Taipei Times.