Klitschko gives up WBC world title
Ukrainian opposition leader Vitali Klitschko announced on Monday that he was relinquishing his WBC world heavyweight title to focus on his political career.
The 42-year-old, whose younger brother Wladimir is the WBA, IBF, WBO and IBO heavyweight champion, thanked the council for leaving open the opportunity for him to return to the ring by making him WBC Champion Emeritus.
However, he all but ruled out that option since he intends to play a leading role in ousting Ukrainian President Viktor Yanukovych in next year's presidential election.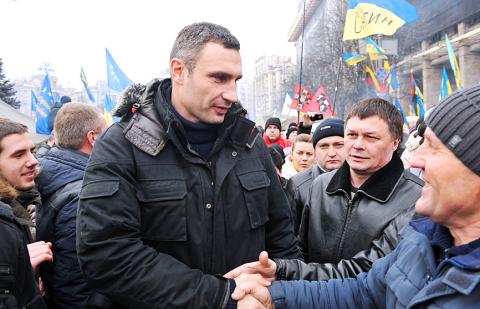 Ukrainian Democratic Alliance for Reform leader Vitali Klitschko, center, greets opposition protesters at Independence Square in Kiev on Saturday.
Photo: AFP
"I want to thank the WBC and its president, Don Jose Sulaiman for the[ir] support in our fight for democracy and freedom in the Ukraine," Klitschko said in a statement on Fight News.com.
"It was and is a great honor to hold the WBC title and I've always done it with pride. The offer of the WBC gives me the theoretical possibility to return to the boxing ring, which I cannot imagine at all to the current state," the boxer-turned-politician said. "Right now, my full concentration is on politics in Ukraine and I feel that the people need me there."
The council also issued a statement saying that by appointing Klitschko emeritus champion, they were leaving the door open for his return, should he wish to.
"The Board Meeting of the WBC and its president Jose Sulaiman have decided to appoint Vitali Klitschko (44-2, 40 KOs) as Champion Emeritus," the council's statement read. "The WBC gave its full support to Vitali Klitschko in his political activities in his home country Ukraine and understands that he is unable to defend his title inside the ring in the foreseeable future."
Having last lost more than a decade ago to Britain's Lennox Lewis, "Dr Ironfist" has knock-outs in 41 of his 45 victories during 47 professional fights, with just two defeats.
Klischko is a three-time heavyweight world champion and last fought in September last year, when he beat Germany's Manuel Charr.
However, his political career has become a priority recently and in October he announced a bid to be elected president next year.
However, his political ambitions were dealt an immediate blow by Kiev's adoption of a legal amendment barring people who spend much of their time living or working abroad from running for president.
Klitschko boxes and has residency status in Germany, but he said that Ukrainian authorities have no reason to deny him participation in the polls, accusing Yanukovych of trying to oust his political rivals.
"He has put one of his opponents in prison and the other he wants to remove [from the polls]," Klitschko said last month, referring to himself, as well as jailed ally and former Ukrainian prime minister Yulia Tymoshenko, herself a fierce Yanukovych foe.
Comments will be moderated. Keep comments relevant to the article. Remarks containing abusive and obscene language, personal attacks of any kind or promotion will be removed and the user banned. Final decision will be at the discretion of the Taipei Times.