Neymar hits out after win over S Korea
No. 10 TARGETED: The Brazilian superstar forward was targeted from start to finish as Hong Myung-bo's South Korea opted for tactics of harassment and frustration
Brazil star Neymar said he feared injury against an uncompromising South Korea after firing the visitors to a 2-0 friendly international win with a trademark free-kick on Saturday.
The Barcelona forward curled his shot past South Korea goalkeeper Jung Sung-ryong just before halftime, with Chelsea's Oscar getting the visitors' second shortly after the break.
Neymar, 21, had been a doubt for the game after a heavy fall in training, and he was hit with some tough challenges and constant close marking in front of a near-capacity crowd.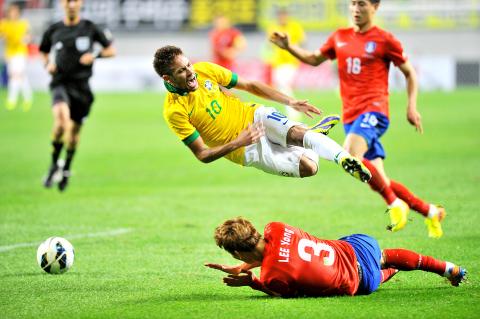 Brazil's Neymar, center top, is tackled by South Korea's Lee Yong, bottom, in their international friendly at the Seoul World Cup Stadium in South Korea on Saturday.
Photo: AFP
The Brazilian threw up his hands in exasperation and had a few testy moments, even getting into a shoving match near the dugouts late in the first half. However, the young idol had the last laugh at Seoul World Cup Stadium when he thumped his strike over the wall and to the right of Jung, who got a hand to the ball, but could not keep it out.
"I expected a difficult match and the South Koreans kept playing me physically. It wasn't one particular player, everyone was the same," Neymar said. "I'm used to hard tackles, but I was a bit worried because I could have been injured. I didn't want to score on a free-kick, I'd much rather have scored [from open play]."
Neymar was targeted from start to finish as Hong Myung-bo's team, already qualified for next year's FIFA World Cup finals, opted for tactics of harassment and frustration.
"I think we simply played football, whereas South Korea tried too hard," Brazil coach Luiz Felipe Scolari said. "In the first half, they had twice as many fouls as we had. I think they were fouling too much early on."
Hong defended his players' physical play, saying they "played it fair and didn't lose their cool."
"Some of our players are still young and I think they will learn from this experience," said Hong, who has just one victory in seven matches since taking over in June. "I am sure they gained confidence from this and it's an important part of our team. That alone is a major plus for us."
After a tepid start to the game, Neymar took the ball in midfield and danced through defenders before threading a pass to Oscar, whose shot flew over the bar, but after being brought down for the umpteenth time, Neymar took matters into his own hands as he opened the scoring with his free-kick.
Brazil doubled their lead three minutes into the second half.
Paulinho put Oscar through and the midfielder went past the helpless Jung, before putting the ball into the gaping net.
South Korea brought on Son Heung-min in the 65th minute, hoping the Bayer 04 Leverkusen winger could add some spark to their lethargic attack and the home side were more lively in the last half-hour, with Lee Chung-yong heading a corner wide in the 68th minute.
It was as close as South Korea came to scoring, as the five-time World Cup champions outclassed their hosts.
South Korea next host Mali tomorrow, while Brazil take on Zambia on the same day in Beijing.
Comments will be moderated. Keep comments relevant to the article. Remarks containing abusive and obscene language, personal attacks of any kind or promotion will be removed and the user banned. Final decision will be at the discretion of the Taipei Times.