Stenson keeps lead; on track for huge bonus
Sweden's Henrik Stenson fired a one-under-par 69 on Saturday to keep a four-stroke lead after the third round of the season-ending US$8 million USPGA Tour Championship.
If Stenson managed to keep his lead over the final 18 holes at East Lake yesterday, he would claim the US$10 million bonus for winning the tour's playoff title, the FedEx Cup, as well as the tournament's US$1.44 million top prize.
With a chance to stretch his lead over the rest of the 30-man field on a rainy day, Stenson stumbled at the finish, making bogeys on three of the final five holes, including a four-foot par putt miss at the 18th, that left him on 11-under 199 after 54 holes.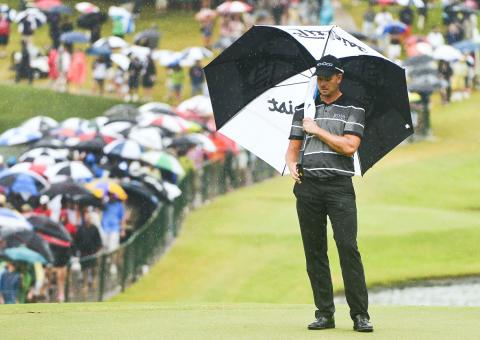 Henrik Stenson of Sweden stands under his umbrella as he waits to putt on the 18th green during the third round of the Tour Championship at the East Lake Golf Club in Atlanta, Georgia, on Saturday.
Photo: EPA
The US' Dustin Johnson was second on 203 after a third-round 67, with US veteran Steve Stricker third on 205 after shooting 68.
England's Justin Rose, the reigning US Open champion, shared fourth on 206 with the US' Zach Johnson, Billy Horschel and Jordan Spieth. England's Luke Donald, while the US' Nick Watney were another stroke adrift.
Stenson birdied the second and third holes and added two more at the seventh and ninth holes, stretching his edge over the field at one stage to nine strokes.
"To think you're going to keep going like that, without any trouble, is probably asking for too much," Stenson said.
The Swede began the back nine with a bogey, added another at 14 and followed a birdie at the par-5 15th with bogeys at 16 and 18.
"I guess at the end of the day, I got what I deserved," Stenson said. "I probably deserved to drop one on 17. I lost one at 18 instead."
Stenson and Zach Johnson were the only two in the title fight among five players who could win the playoff title by winning the tournament.
World No. 1 Tiger Woods, the playoff points leader, fired a 69 to stay 26th on 213, one stroke behind compatriot Matt Kuchar, who was also in the top five in points.
"I didn't hit it very good today," Woods said. "I hit everything to the right or I flipped it left, but I putted better. The goal is to go out and shoot a good round tomorrow [today] and see where the chips fall."
Australian Adam Scott, the reigning Masters champion, stumbled to a 74 to stand on 210, after starting the day with fever and chills and receiving IV fluids to treat his flu symptoms.
"I wasn't feeling top drawer last night and had a rough night," Scott said. "Didn't feel too flush this morning so had to get some help. I feel a lot better now, but it was pretty rough this morning."
"It was very disappointing to wake up feeling like that. When I woke up this morning, I definitely wouldn't have been going. I was really flat and not in a good way. So it was just enough to get me going and hopefully I can rest up tonight and feel better tomorrow," he added.
Three bogeys and a double bogey gave Scott a front-nine 40 that not even a birdie at 17 and eight back-nine pars could offset.
Dustin Johnson, the last man to grab a berth in the field, sank a 31-foot par putt at the par-three 18th to stand second.
"That's the longest putt I've made this week by far," he said. "I had perfect speed and rolled one in. That was very fortunate. I feel really confident, swinging it good and getting closer."
Comments will be moderated. Keep comments relevant to the article. Remarks containing abusive and obscene language, personal attacks of any kind or promotion will be removed and the user banned. Final decision will be at the discretion of the Taipei Times.