Le Clos, Hosszu finish Cup on top
South Africa's Chad Le Clos finished Berlin's World Cup meet on Sunday top of the men's rankings while women's leader Katinka Hosszu of Hungary broke two of her own short-course records.
The 24-year-old Hosszu, the 100m and 200m individual medley world champion, bettered her own 100m IM world record in the morning's heats, clocking 57.45sec, before winning Sunday night's final.
Hosszu then set the world record of 4min 20.85sec in the 400m IM final, again bettering her mark she set in Eindhoven's World Cup meet on Wednesday last week.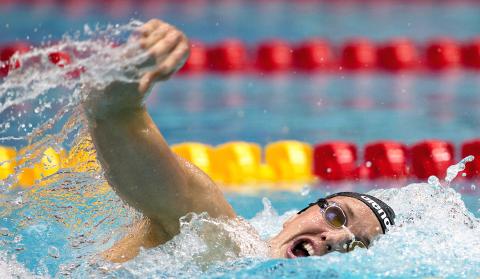 Hungary's Katinka Hosszu competes on her way to setting a new world record in the women's 400m individual medley in the Swimming World Cup in Berlin, Germany, on Sunday.
Photo: AFP
After winning two golds and a bronze at Barcelona's world championships earlier this month, Hosszu has claimed the short-course records for the 100, 200 and 400 IM in the space of five days at both the Eindhoven and Berlin World Cup meets.
"It's been crazy to get so many short-course world records on the back of Barcelona," Hosszu said.
"I have been training really hard for the last few years, but it's all come together in the last two weeks," she said.
"We changed my training program after the Olympics and I graduated last year, so I have been able to put in more training," she said.
"It's helped that the first rounds of the World Cup series came straight after the world championships, so everyone is tapered," she said. "I'm really happy, but I still have things to improve on and I want to get better."
Spain's Mireia Belmonte also claimed a new short-course world record in the women's 400m freestyle when she won the final in 3min 54.52sec just ahead of New Zealand's Lauren Boyle.
Le Clos, who set the men's 200m butterfly short-course record of 1min 49.04sec on Wednesday last week in Eindhoven, finished second on Sunday to Thomas Shields of the USA in the men's 100m butterfly final and was then runner-up to Australia's Kenneth To in the men's 200IM final.
"It was fun, but I'm disappointed as I thought I could win them both tonight," said the 21-year-old, who won the 200m fly final on Saturday last week in the German capital to stay top of the World Cup rankings.
"I wasn't focused enough in the 100m fly and I thought I had the IM under control, but I need to work on my breaststroke," he said.
Le Clos shot to fame at the Olympics when he won gold in the 200m butterfly final by narrowly beating swim legend Michael Phelps.
He then added the world crowns in both the 100 and 200m butterfly at Barcelona's world championships which finished on Sunday last week.
"The last two weeks have been better than I ever expected, sometimes when you dream about something happening and then it comes true, you realize how special it is," Le Clos said.
The South African will now swim the next six legs of the World Cup, which continues in Moscow, Dubai, Doha, Singapore and Tokyo before finishing in November in Beijing.
"I'm swimming all the World Cup meets to sharpen things up, particularly working on my starts and turns," Le Clos said.
"It helped me swimming the World Cups in 2011 ahead of the Olympics, so this year will help for next year's Commonwealth Games," he said.
Le Clos said he is proud of his 200m butterfly short-course record.
Comments will be moderated. Keep comments relevant to the article. Remarks containing abusive and obscene language, personal attacks of any kind or promotion will be removed and the user banned. Final decision will be at the discretion of the Taipei Times.