'Hot Spot' inventor airs concerns: report
An Australian TV channel yesterday repeated claims that cricketers are using silicone tape on bats to cheat "Hot Spot" readings, saying the inventor has raised concerns with the sports's authorities.
Channel Nine unleashed a storm of controversy when it alleged on Wednesday that players in the current Ashes series were using the tape on their bats to avoid nicks being detected by the thermal imaging system.
The International Cricket Council (ICC) said the claims were incorrect and it was not investigating any alleged attempts by players to "cheat" Hot Spot.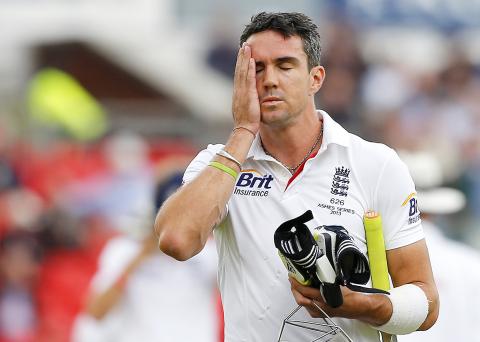 England's Kevin Pietersen walks off the pitch after being dismissed on Monday's final day of the third Ashes Test at Old Trafford in Manchester, England.
Photo: Reuters
However, Channel Nine renewed its allegations on its evening news bulletin yesterday, saying Warren Brennan — inventor of Hot Spot — had raised his "serious concerns" with the ICC about flaws with the system.
"He fears that [silicone] tape used on bats can fool the technology. In short, an edge simply won't show up," it told viewers.
Channel Nine said Brennan had met ICC general manager of cricket, Geoff Allardice, earlier this week to express his concerns.
"As such, extensive testing was carried out," the network alleged. "What that testing showed was that once a second layer of tape is applied to the bat [then] contact with the ball is undetectable."
Channel Nine said it understood that Brennan had been advised by the ICC to "stay quiet about his concerns."
The network said that as of late yesterday Brennan was refusing all interviews.
On Wednesday Nine said there was particular concern regarding England batsman Kevin Pietersen's dismissal in the second innings of the third Test on Monday, when a noise was heard indicating a nick, but no Hot Spot was detected on the bat.
Pietersen described the report as "horrible journalism" and "hurtful lies."
"I am never afraid of getting out! If I nick it, I'll walk. To suggest I cheat by covering my bat with silicon infuriates me," he tweeted.
"How stupid would I be to try & hide a nick when it could save me on an LBW appeal, like in 1st innings where hotspot showed I nicked it," he said.
Australia captain Michael Clarke denied any knowledge of the practice.
The ICC on Wednesday insisted Allardice was planning on speaking to the teams solely regarding their concerns about the controversial Decision Review System. It said it was not investigating any alleged attempts by players to "cheat" Hot Spot.
"These media reports are totally incorrect," ICC chief executive David Richardson said in a statement.
"Geoff Allardice is meeting with both teams and umpires to see how we can best use the DRS and the available technology going forward in the next two Test matches. It has nothing to do with any players," the former South Africa wicketkeeper said.
An England and Wales Cricket Board spokesman said they had contacted Channel Nine asking for an explanation and an apology. There was no acknowledgement of that on Nine's bulletin.
Previously, Brennan had suggested in a tweet to former England captain Michael Vaughan that players were using fibreglass tape on the edge of their bats to try to "fool" Hot Spot, which uses thermal cameras to see if a batsman has hit the ball, either with bat or pad.
Comments will be moderated. Keep comments relevant to the article. Remarks containing abusive and obscene language, personal attacks of any kind or promotion will be removed and the user banned. Final decision will be at the discretion of the Taipei Times.