Lions maul Elephants, Monkeys puzzle Rhinos
BIG HITTERS: Chen Yung-chi and Kao Chih-kang roughed up the Brother Elephants pitchers as the Uni-President Lions cruised to an easy victory in Taichung
CPBL
Five first-inning runs by the Uni-President Lions set the tone early in the game as they cruised past the Brother Elephants 7-1 at the Taichung Intercontinental Baseball Stadium yesterday to sweep the three-game series.
The win brought the Cats to within half a game of the league-leading EDA Rhinos, who dropped a narrow 2-1 decision to the Lamigo Monkeys in their series finale in Taoyuan, making it a two-team race for the first-half title with the month winding down.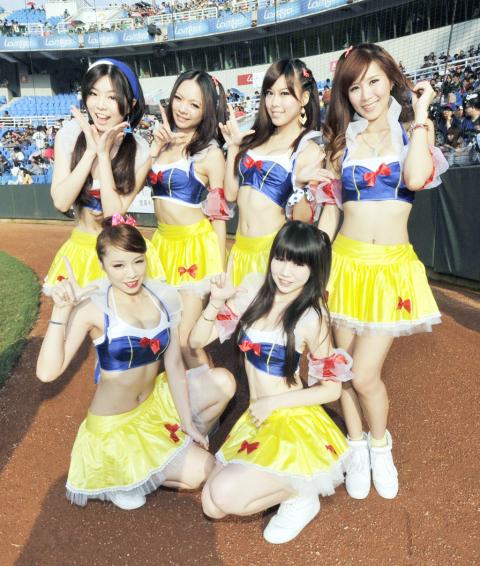 The Lamigo Monkeys cheerleading team poses for a photograph before their side's game against the EDA Rhinos in Taoyuan yesterday.
Photo: Chen Chih-chu, Taipei Times
The Lions wasted no time against a shaky Lin "Little Chick" En-yu as they batted around the order in the top of the first to collect five rare runs off the Elephant ace, who had given up only a lone run in his previous two starts.
Lin left the mound after serving up six runs over three innings in his worst effort of the season so far.
While Lin struggled against the Lions hitters, his counterpart Luo Ching-lung was enjoying his best outing of the season, as the former minor league prospect for the Colorado Rockies pitched one-run ball on five hits over seven solid innings to record his first career victory as a professional in Taiwan.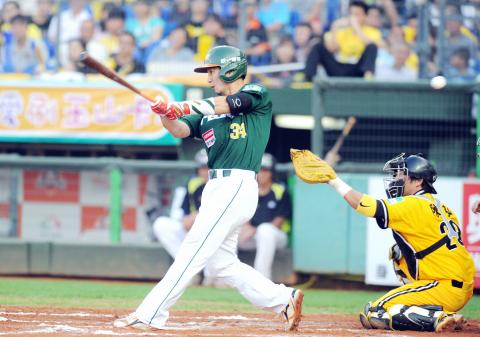 Kao Chih-kang of the Uni-President Lions, left, bats against the Brother Elephants in their CPBL game in Taichung yesterday.
Photo: Chang Chung-yi, Taipei Times
Leading the way at the plate for the Lions, who roughed up the Elephants' pitchers all game, were Chen Yung-chi and Kao Chih-kang, whose combined six-for-nine hitting with four RBIs capped what ended up being a 22-run scoring spree over a three-game span.
MONKEYS 2, RHINOS 1
Yeh Chu-hsuan made the most of his call-up from the minor leagues with a rare triple and scored a run to help the Lamigo Monkeys edge past the EDA Rhinos in a 2-1 thriller at the Taoyuan International Baseball Stadium yesterday.
The win not only nipped a four-game slide for the defending champions, but it also avoided a three-game sweep at the hands of the league leaders.
Comments will be moderated. Keep comments relevant to the article. Remarks containing abusive and obscene language, personal attacks of any kind or promotion will be removed and the user banned. Final decision will be at the discretion of the Taipei Times.