NHL: Penguins move closer to top seed
The Pittsburgh Penguins moved a step closer to clinching top seed in the NHL Eastern Conference playoffs by beating their closest rivals, the Montreal Canadiens, 6-4 on Wednesday.
Brenden Morrow scored twice for the second straight game as Pittsburgh established a nine-point lead over Montreal and Boston. The Penguins and Canadiens both have five games left, while the Bruins have six.
Boston missed a chance to move outright second when they were beaten 3-2 at home by Buffalo, in the first major-league sports contest in Massachussets since the Boston Marathon bombing.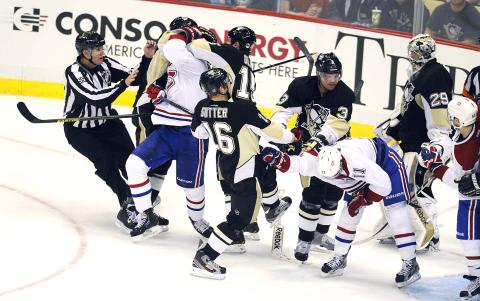 The Pittsburgh Penguins and the Montreal Canadiens battle in the second period of their NHL game in Pittsburgh, Pennsylvania, on Wednesday.
Photo: Reuters
Columbus moved into eighth place, and a provisional playoff spot, in the Western Conference with an overtime win at Anaheim.
Pittsburgh also got two goals from Brandon Sutter, while newly acquired Jarome Iginla and Doug Murray also scored for the Penguins, who won without injured stars Sidney Crosby (broken jaw) and Evgeni Malkin (shoulder).
Brian Gionta, Alex Galchenyuk, Gabriel Dumont and Andrei Markov scored for the reeling Canadiens, who have lost three straight. Peter Budaj started in goal, but was pulled after conceding three goals in the first period.
Columbus' Feodor Tyutin scored the overtime winner in the Blue Jackets' 3-2 victory over the Anaheim Ducks, notching their fifth straight victory.
Blake Comeau and Matt Calvert also scored for the Blue Jackets, who rallied to win and jumped two points ahead of Detroit. Columbus moved within one point of seventh-placed St Louis, who have two games in hand.
The Ducks, who already have clinched a post-season berth, lead Los Angeles and San Jose by six points in their bid for their second Pacific Division title.
Defenseman Sami Vatanen scored his first NHL goal, one day after Anaheim recalled him from the minors, and David Steckel ended a 32-game goal drought.
Buffalo's Drew Stafford scored the only shootout goal after the Sabres tied the game in the final minute of regulation, giving the visitors a 3-2 win over the Boston Bruins.
Calgary's Steve Begin scored two goals in the third period, and the Flames held on to hand the playoff-hopeful Detroit Red Wings a 3-2 loss.
Comments will be moderated. Keep comments relevant to the article. Remarks containing abusive and obscene language, personal attacks of any kind or promotion will be removed and the user banned. Final decision will be at the discretion of the Taipei Times.