Schild blows away field to triumph in Courchevel slalom
Austria's Marlies Schild won the women's alpine World Cup slalom race yesterday, which ended in frustration for American Lindsey Vonn, who failed to qualify for the second leg.
This was a 29th World Cup slalom win for the reigning world champion, who beat Finland's Tanja Poutiainen by 1.87 seconds. Austrian Kathrin Zettel was third, 2.19 seconds behind.
Vonn, who leads the overall standings after a four-race winning run, was knocked out of contention after veering off course in the first leg.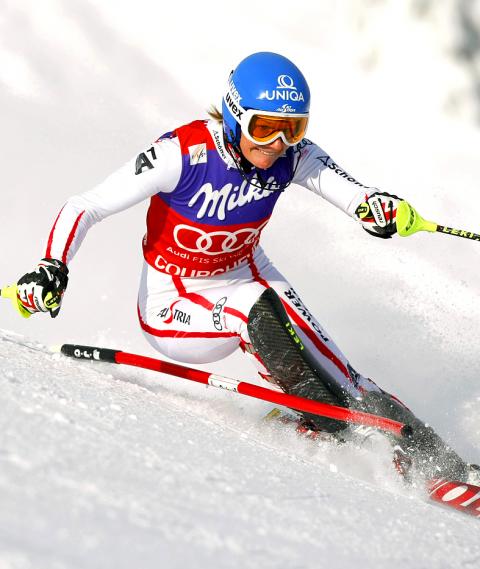 Austria's Marlies Schild smashes through a gate during her first run at the World Cup slalom race in Courchevel, France, yesterday.
Photo: Reuters
Schild, who opened the season with success in her favored discipline in Aspen, Colorado, led the times after the first leg and posted the second quickest time in the second.
"For the second time at Courcheval, I gave my all, and for the second time I've won," said the Olympic silver medalist, who was repeating her win here 12 months ago.
Schild moved to within five World Cup slalom wins of Swiss record-holder Vreni Schneider's tally of 34.
Out of luck were second leg fallers Maria Hoefl-Riesch of Germany and Swede Maria Pietilae-Holmner, who had joined Schild on the podium at Aspen and who were sitting pretty after finishing second and third respectively in the first leg.
Vonn was far from downcast at her failure to complete the race.
"I'm really happy with my run. I looked at the times and I was only eight-tenths out on the second split," the US star said. "It was definitely really positive, stuff like that happens. For not training in a week, it's not so bad."
"It was a bit funny, my coaches radioed up that they were putting water on the course because it was breaking up at the bottom. I just felt like I hit a wet patch of snow and my skies kind of slid, and it was too late to recover it," she said.
"I'm trying to get my slalom back on form and so far it's going well," she added.
Vonn revealed she was to fly to Salzburg, Austria, in a private jet with Hoefl-Riesch later yesterday, before racing at Flachau tomorrow.
"Then I will spend Christmas in Innsbruck with friends and family. Maria and I share a private plane ... it's expensive, [but] if you can save energy and be prepared for the next race, it's worth the money," Vonn said.
Comments will be moderated. Keep comments relevant to the article. Remarks containing abusive and obscene language, personal attacks of any kind or promotion will be removed and the user banned. Final decision will be at the discretion of the Taipei Times.