Poulter battles bug to stay in the lead
HANGING IN: Australian Open leader Ian Poulter said he was struggling not to get physically ill throughout the day's play, but managed to keep a two-stroke lead
England's Ian Poulter battled a stomach bug, but held on to a two-stroke lead at the halfway stage of the Australian Masters at the Victoria Golf Club yesterday.
Poulter added 68 to his opening 65 to be nine-under after 36 holes, two shots clear of local golfer Matt Giles.
Poulter was happy just to get through the round without being physically ill.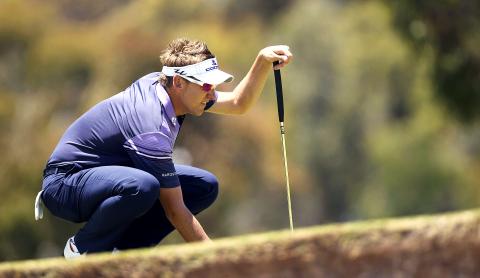 Ian Poulter of Britain lines up a putt on the fourth hole in the second round of the Australian Masters yesterday at the Victoria Golf Club in Melbourne, Australia.
Photo: Reuters
"I woke up this morning and wasn't feeling too good. I don't know if it was something I ate," he said.
"I was struggling out there this morning even before I got to the range. I would have taken 68 before I set off today. I just got a bug and hopefully I'm through it, so I can come out strong tomorrow [today]," he added.
"It was ugly, very ugly," Poulter said of his round.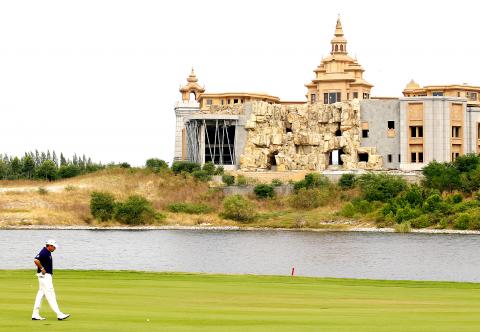 Lee Westwood walks on 18th fairway yesterday during the second round of the Thailand Golf Championship at Amata Spring Country Club in Chonburi Province, Thailand.
Photo: EPA
"I hit a few poor tee shots and second shots, but I managed to recover really well and get myself out of trouble. That's what you've got to do if you miss greens around this golf course," he said.
The Englishman was delighted to finish the round by holing two birdie putts.
Poulter has made no secret of the fact he wants to collect as many world ranking points in his season-ending tournament.
There is a premium attached to this week in terms of ranking points, with world No. 1 Luke Donald in this week's field.
Donald is conceding Poulter a six-shot break with 36 holes to play.
The Australian Masters may pale beside Donald's history-making achievements this year, but he is nothing if not a proud man.
After successive birdies, momentum was with him walking to the eighth tee — a testing 443m par-four.
However, his tee shot caught a bunker on the left-hand side of the fairway.
Faced with a shot of about 160m to the edge of the green, he went with an eight iron over the lip.
"I thought I hit a pretty good shot, but it missed clearing the lip by six or eight inches and got embedded in the bank," Donald said.
Forced to take a penalty drop, he ended up signing for a six.
"It was a little bit of a momentum killer," he said.
Donald battled on manfully and signed for a second-round 70 to be three-under for the championship.
Donald remains confident he can bridge the gap with Poulter over the weekend.
"I'm still in a decent position. Ian looks like he's playing quite well. I just need to get the putter going," he said.
Donald played behind Poulter yesterday and said he saw him hit a few loose shots.
"But he's good at scrapping around when he has to and that is always the mark of a good player," Donald said.
"It's a little bit frustrating, to be quite honest. I played a lot better today than I did the first day. I just did not get a lot out of it. I hit a lot of good shots today. I've just been struggling on the greens. I'm finding it hard to pick the line and I'm missing my chances," said the man who created history by winning this year's European as well as USPGA money lists.
"I've still got a good chance and I'm looking forward to the weekend," he added.
Defending champion Stuart Appleby was forced to withdraw yesterday with a back injury.
THAILAND CHAMPIONSHIP
AFP, BANGKOK
Lee Westwood opened up a massive 14-stroke lead — his biggest ever — at the US$1 million Thailand Golf Championship yesterday, finishing the second round on 20-under-par.
The English world No. 3 followed up his stunning opening day 60 on the par-72 Amata Spring Country Club course with another impressive 8-under 64 to leave the rest of the field reeling in his wake.
His score matches the 36-hole Asian Tour record held by Chapchai Nirat of Thailand.
Westwood raced away from closest challenger John Daly, who could only manage a 73 in yesterday's windier conditions.
Masters champion Charl Schwartzel and the US' Michael Thompson, who were among the late starters, were also moving up the leaderboard to challenge for second place.
Westwood admitted it was a "strange feeling" being so far ahead of the field.
"It's the biggest lead that I've ever had. It's outrageous," he said.
He added that conditions in the second round were more difficult than the first day.
"There was quite a strong breeze and 64 is a really good score. I'm delighted with the two days' work," he said.
Despite his huge lead, Westwood was not getting carried away.
"I just want to carry on the way I'm playing. I am really looking forward to the weekend," he said.
After his round, Westwood headed for the gym.
"One reason I'm playing well is because I am much fitter," he said.
Daly was disappointed with his round after a promising opening day of 65.
"I just didn't make any putts," he said. "It's frustrating when you are hitting it good, but not sinking those putts."
He accepts that he has no chance of winning the tournament.
"Playing for second is all I can do. No one is going to catch him [Westwood]," he said.
There was disappointment for local fans when Thailand's top player, Thongchai Jaidee, pulled out on the 13th hole with a painful back injury.
Comments will be moderated. Keep comments relevant to the article. Remarks containing abusive and obscene language, personal attacks of any kind or promotion will be removed and the user banned. Final decision will be at the discretion of the Taipei Times.