NFL: Packers' Rodgers eyes win in Atlanta
Aaron Rodgers should have fond memories of Atlanta, Georgia. The last time he led the Green Bay Packers into the Georgia Dome they routed the Falcons in the second round of the NFL playoffs.
Rodgers was unstoppable then and he is playing even better now in leading the defending Super Bowl champions to a 4-0 win-loss start.
The Falcons have not been so formidable and their 2-2 start puts them third in what might be the NFL's best division, the NFC South. Atlanta lost only three games last year, so if Rodgers and company continue lighting it up, the Falcons could find themselves in a huge hole.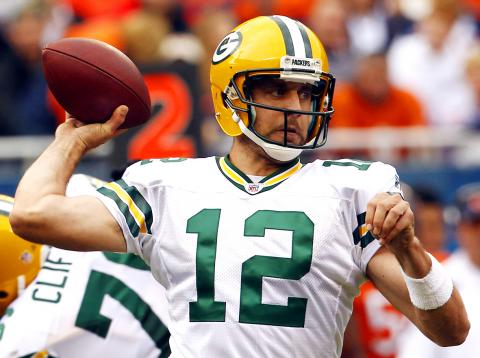 Green Bay Packers quarterback Aaron Rodgers throws a pass against the Chicago Bears in the first quarter of their NFL game in Chicago on Sept. 25.
Photo: Reuters
"It's fun playing teams like this on Sunday night. The atmosphere, we know what that's going to be like," Rodgers said. "We beat them last year pretty good down there. They're upset about that, I'm sure. It's going to be a tough game for us."
Rodgers' counterpart with the Falcons, Matt Ryan, has not forgotten that 48-21 pasting.
"It takes a little while to get over, but you have to move past it," Ryan said. "You have to learn from it. Not only myself — I know I used it as motivation throughout the off-season ... That's part of playing in this league, is you're going to make some mistakes and you're going to make some plays that don't go the way you want. It's how you respond to those type of things, and I think I've had the right response."
Green Bay certainly have responded in style after their surge from wild card to champion.
"We think this is going to be a hot game," Packers coach Mike McCarthy said. "We're excited to go down there and play on the big national stage. We're fully aware probably of how they feel about us. We're looking forward to the challenge."
The other unbeaten team, the Detroit Lions, host the Chicago Bears in their first nationally televised Monday game in more than a decade.
On the last occasion of being a Monday host, the Lions lost 35-0 to the Rams, and TV has pretty much avoided them since. With good reason, of course, because Detroit has been a professional football wasteland since Barry Sanders left.
No more, and the Lions are back in the primetime spotlight against division rivals that have won six in a row in the series — including on Dec. 5 last year, the last time the Lions lost — but have the kind of problems (weak offensive line, spotty pass defense, inconsistent quarterback) that plagued Detroit all those years.
"We've always played on Thanksgiving because of tradition," said kicker Jason Hanson, one of the few Lions who played in the team's last Monday night game. "You have to get picked to play on Monday night, so that's gratifying, but we've got to back up the buzz with a good game."
The San Francisco 49ers come off an impressive two-game eastern swing in which they won at Cincinnati, where quarterback Alex Smith described the game as "mini-training camp," then headed to Philadelphia. They won there, rallying from 20 points down for a 24-23 victory.
They will be back at Candlestick Park and it's the Tampa Bay Buccaneers who have the big road challenge, coming off a short week after Monday's win over Indianapolis and traveling cross-country.
Also on Sunday, it's the New York Jets at New England, Oakland at Houston, San Diego at Denver, Philadelphia at Buffalo, Tennessee at Pittsburgh, New Orleans at Carolina, Seattle at the New York Giants, Cincinnati at Jacksonville, Arizona at Minnesota and Kansas City at Indianapolis.
Off this week are Baltimore, Cleveland, Dallas, Miami, St Louis and Washington.
Comments will be moderated. Keep comments relevant to the article. Remarks containing abusive and obscene language, personal attacks of any kind or promotion will be removed and the user banned. Final decision will be at the discretion of the Taipei Times.