RUGBY WORLD CUP: Pumas get late try to defeat Scotland
HELP NEEDED: For Scotland to advance they will have to find their way past rivals England and then hope for a favorable result in Argentina's match against Georgia
Replacement winger Lucas Gonzalez Amorosino beat four defenders from 35m out to help Argentina to snatch a 13-12 victory over Scotland yesterday that kept alive their Rugby World Cup quarter-final chances.
Scotland coach Andy Robinson rued "30 seconds of madness," which cost his side victory in the Pool B game and left them likely to need a win against old foes England next weekend.
Amorosino's 72nd-minute try, which was converted by captain Felipe Contepomi, brought Argentina back from 12-6 down to give the Pumas, who finished third at the 2007 World Cup, victory in a bruising encounter.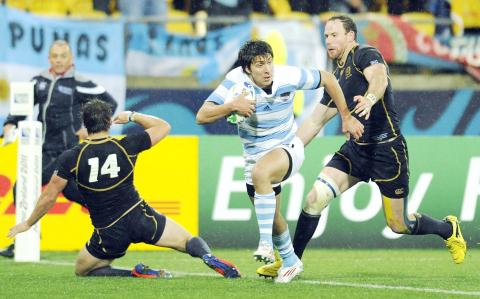 Argentina's Lucas Gonzalez Amorosino, center, weaves past Scotland's Max Evans, left, and Graeme Morrison on his way to the game-winning try during their Pool B World Cup match at the Wellington Regional Stadium in Wellington yesterday.
Photo: AFP
"You have to give the Scotland lads tremendous credit for the way they played the game. I thought tactically they were very smart and they created a number of opportunities, but 30 seconds of madness has cost us," Robinson told reporters. "You have to give Argentina credit for finding a way to win the game when in the second half I thought they were outplayed [but] they found an answer [and] their never-say-die attitude got them through."
Both Argentina and Scotland have 10 points in Pool B, with leaders England on 14. Scotland play England on Saturday at Eden Park, while the Pumas play Georgia in Palmerston North on Sunday.
For Scotland to progress, they will almost certainly have to beat England and then hope that Argentina's result and the bonus-point situation works in their favor.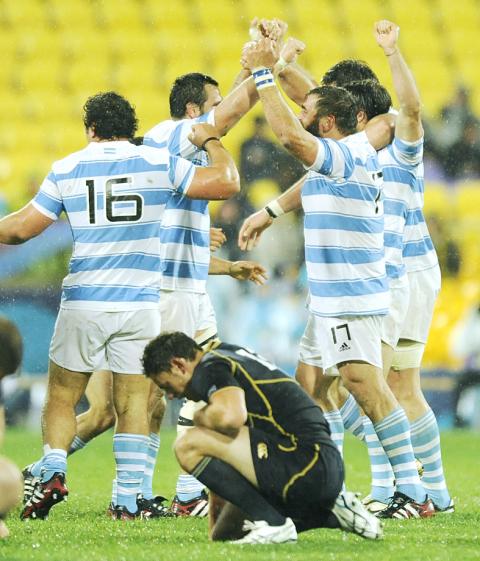 Argentina celebrate behind Scotland's Nick De Luca after their Pool B World Cup match in Wellington yesterday.
Photo: AFP
The Pumas' fans transformed the stadium into a soccer-style amphitheater, despite the miserable weather, with their chanting, dancing and singing though the match failed to rise to their carnival exhortations.
Scotland's enterprise — they were prepared to spin the ball wide — did not result in points as they turned the ball over numerous times while in the Pumas' half.
"We controlled a lot of the territory and possession and gave ourselves a chance to win that game," Scotland captain Rory Lawson said. "We are hugely disappointed we gave Argentina the 30 seconds that broke us down, but at the same time we take our hats off to them for executing that opportunity."
The first-half scoring was restricted to three penalties, one to Contepomi and one each to Chris Paterson and Ruaridh Jackson to give Scotland a 6-3 lead at the break.
Scotland had the advantage of a blustery, southerly wind in the second half and were prepared to resort to high kicks in the swirling wind to put pressure on the Pumas in their own half, though again they failed to capitalize.
Contepomi tied the game at 6-6 in the 62nd minute with his second penalty, though Jackson struck back immediately to snatch back the lead when Scotland forwards set him up for a 40m drop-goal.
Replacement flyhalf Dan Parks extended the lead and appeared to have won the match with a drop-goal, though Amorosino sealed the win with eight minutes remaining.
Parks had the opportunity to snatch back victory in the final minute, but his drop-goal attempt was pushed to the left.
"It was a must-win game and maybe we didn't play the way we practiced, but it was very important that we managed to turn around six points in the final 10 minutes," Contepomi said through an interpreter. "It think it is a great boost for us, now we depend on ourselves [but] ... we haven't achieved anything yet. So we know we are in the front seat in terms of going to play Georgia and looking to qualify."
Comments will be moderated. Keep comments relevant to the article. Remarks containing abusive and obscene language, personal attacks of any kind or promotion will be removed and the user banned. Final decision will be at the discretion of the Taipei Times.