Pakistan cricket coach quits, cites personal reasons
Pakistan cricket coach Waqar Younis resigned yesterday, citing personal reasons, in the latest setback to hit the troubled team that have been riven by infighting and corruption scandals.
"I have tendered my resignation to the [Pakistan Cricket] Board [PCB] last week and the tour to Zimbabwe will be my last," Waqar, at the helm for less than 18 months, told a press conference ahead of this month's tour to the African country.
The 39-year-old former fast bowler took over as coach in March last year, but has since faced controversies including the spot-fixing scandal that led to lengthy bans for three cricketers, dissent from players and differences with former one-day captain Shahid Afridi.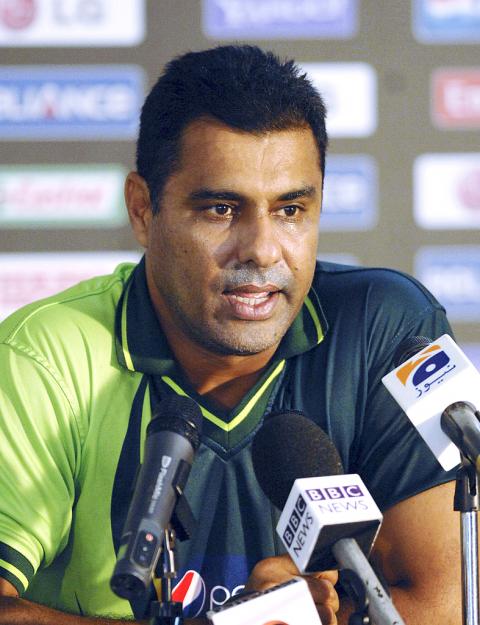 Pakistan's cricket coach Waqar Younis speaks to the media in Hambantota, Sri Lanka, on Feb. 21.
Photo: Reuters
"I have taken this decision on personal grounds, including medical grounds, and have no differences with anyone. My resignation has been accepted by the board," Waqar said.
Pakistan plays one practice game, one Test, three one-day internationals and two Twenty20 matches on the tour of Zimbabwe, which starts next Sunday.
Waqar's differences with Afridi surfaced during Pakistan's tour of the West Indies in May, after which manager Intikhab Alam blamed both of them for creating problems within the team.
Afridi retired from international cricket after being dumped as one-day captain in June, saying he would not return as long as Ijaz Butt remained the chairman of the PCB and Waqar was coach.
Waqar was also reportedly unhappy with chief selector Mohsin Khan.
However, the former fast bowler said yesterday that he had no complaints.
"Had everything in my personal life — that is, my wife's health and my own — been all right, I would not have taken this decision, but I do not want to fail to do the job justice because of the personal problems on my mind," Waqar said.
Waqar, under whom Pakistan qualified for the semi-final of the World Cup in March before losing to eventual champions India, called his time a the helm a "roller coaster."
"It was a roller coaster for me, with a lot of controversies including the spot-fixing scandal, but I am proud of the fact that all these young boys have carried on the good work despite these problems," he said.
His first two Test series as coach — against Australia and England, both played in England last year — saw Test captain Salman Butt and key pacemen Mohammad Asif and Mohammad Amir caught up in the spot-fixing scandal.
The corruption claims over the Test against England at Lord's in August last year resulted in lengthy bans for Butt, Asif and Amir, and the trio also faces criminal proceedings in England.
Waqar said the players had been shocked by his decision to quit.
"I only told the players on Saturday morning and they were shocked because until today the matter was between me and the PCB, but I am sure that this young team will do well in future," Waqar said.
"The PCB has accepted his resignation and understands his personal reasons. His tenure was good and we wish him the best in his future," PCB spokesman Nadeem Sarwar said.
Waqar's resignation is the latest headache to hit the troubled national team, which will have to find another suitable coach before their October-November series against Sri Lanka.
This will be followed by a tour of Bangladesh and a series against world No. 1 Test team England early next year.
Comments will be moderated. Keep comments relevant to the article. Remarks containing abusive and obscene language, personal attacks of any kind or promotion will be removed and the user banned. Final decision will be at the discretion of the Taipei Times.