Guangzhou Evergrande aim to Conca the world
The arrival of China's most expensive soccer player, Argentine Dario Conca, is the first step toward a world championship for the club that signed him, its chairman said.
Liu Yongzhuo told reporters the hiring was "just the beginning" for his Chinese Super League club the Guangzhou Evergrande, who paid a record US$10 million transfer fee for the 28-year-old midfielder.
"We will continue to look to the overseas market if we can identify the right targets," Liu said as he unveiled the former captain of the Brazilian club Fluminense to the Chinese press on Tuesday.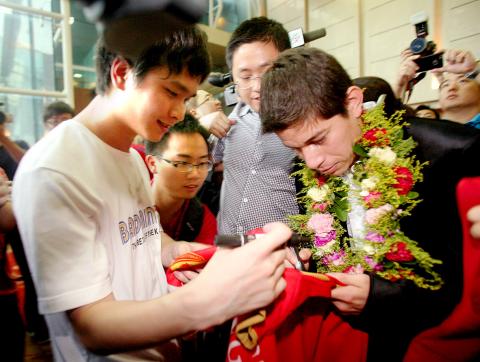 Argentine midfielder Dario Conca, right, signs an autograph for a fan as he arrives in Guangzhou, China, on Monday.
Photo: AFP
"Our purpose of introducing foreign players is to lift the competitiveness of our team and reach our targets, which include winning the AFC [Asian Football Confederation] Champions League within five years," Liu said. "We also want to claim the FIFA Club World Championship. If we can't win the titles, then we will continue to buy more foreign players who play at a high level."
Guangzhou were relegated two years ago because of a match-fixing scandal, but advanced to the Super League this season, spending a reported US$18 million on transfers ahead of Conca's signing.
The club is owned by the -Evergrande Real Estate Group, one of China's top real estate companies, and whose owner Xu Jiayin is reportedly one of China's richest tycoons.
Conca signed a three-and-a-half-year contract with the Chinese Super League leaders in a deal worth about US$7 million a year after taxes, making him the most expensive player ever in China, according to local media.
Voted player of the season in Brazil last year, he will play alongside some of China's top players, as well as several Brazilian imports.
"I know I have joined a club with a big vision," said the player, who scored 40 goals in a three-and-a-half-year stint with Fluminense. "Many outstanding Brazilian players have joined the league and have promoted its image ... I will try to adapt to the life here as soon as possible and score more goals for the club."
Evergrande are unbeaten this season and lead the 16 team league with 37 points after 15 matches. Second-placed Beijing Guoan are seven points behind.
It was not immediately clear if the midfielder would start in Guangzhou's match against Nanchang Hengyuan tonight, but the media, which watched him train on Tuesday, said he would likely play.
Comments will be moderated. Keep comments relevant to the article. Remarks containing abusive and obscene language, personal attacks of any kind or promotion will be removed and the user banned. Final decision will be at the discretion of the Taipei Times.