Bosh fires Heat to win over Lakers
Chris Bosh stepped up to help the Miami Heat snap a five-game losing streak with a 94-88 win over the two-time defending NBA champion Los Angeles Lakers on Thursday.
Bosh, who had complained about his limited role in the team's offense during their slump, led Miami with 24 points and nine rebounds as the Southeast Division-leading Heat secured a playoffs berth.
"I was aggressive coming to the ball, but they were unselfish dumping it to me," Bosh told reporters. "I wasn't playing around. I was just going to focus on going hard."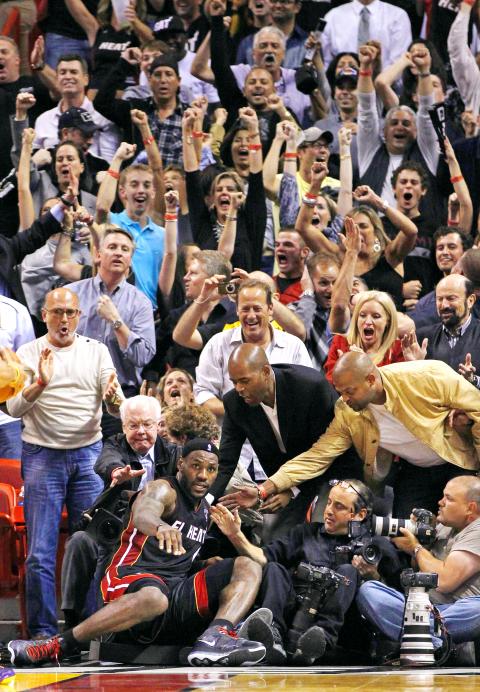 The Miami Heat's LeBron James is helped up after falling into photographers during their game against the Lakers' on Thursday in Miami, Florida.
Photo: Reuters
With the game tied at 88-88, Miami's Dwyane Wade stole the ball from Kobe Bryant and sent LeBron James clear for an uncontested dunk with 1:27 remaining, putting the Heat ahead for good.
"This was an opportunity to really just keep our composure and execute down the stretch, get stops when the pressure was on, make plays when the pressure was on," Bosh added. "It was there the entire last three minutes. I think for our mind and our psyche, it was very important."
Wade added another field goal and James secured the win with two free throws with 19 seconds remaining to end the Lakers' eight-game winning streak.
"We've got to keep on moving forward," Heat coach Erik Spoelstra said.
"The important thing of going through a stretch like that, the guys did not collapse. The guys want to make this work. The more we're in this, the more confident we'll get. "But this is one game, we're not over the hump. We still need to improve and get better."
In a low-scoring third quarter, the Lakers threatened to take command of the game with a 9-0 run to establish a game-high lead of six points, but the Heat stalled their momentum and shaved the lead to two points heading into the final quarter.
MAVERICKS 127, KNICKS 109
In Dallas, Dirk Nowitzki scored 23 points to lead Dallas over New York.
Shawn Marion had 22 for Dallas, who responded to coach Rick Carlisle calling his team "soft" after they blew a seven-point lead in the final minute in New Orleans the night before. Dallas sprang out to a season-best 72 points in the first half on their way to their highest total for a game all season.
Amare Stoudemire scored 36 points for the Knicks, who had won three straight. Stoudemire also picked up his 16th technical foul, which will trigger an automatic one-game suspension if it's upheld.
It was a marginal call and could be rescinded; he's already had two wiped out this season.
NUGGETS 116, SUNS 97
In Phoenix, Denver beat Phoenix for the first time in 13 tries.
Coach George Karl ended an even longer drought. The Nuggets coach had not won in Phoenix since 1997, when he was with the Seattle SuperSonics.
Nene scored 22 points in 26 minutes for the Nuggets, who converted the Suns' 20 turnovers into 32 points and shot 52 percent to Phoenix's 41.
Comments will be moderated. Keep comments relevant to the article. Remarks containing abusive and obscene language, personal attacks of any kind or promotion will be removed and the user banned. Final decision will be at the discretion of the Taipei Times.