Tampa Bay Rays reunite veterans Ramirez, Damon
The Tampa Bay Rays are reuniting Manny Ramirez and Johnny Damon, hoping the veteran free agents can help them stay on top in the American League East.
The Rays on Tuesday introduced their new acquisitions Ramirez and Damon — teammates on the 2004 World Series champion Red Sox who had since gone different ways.
"We're not going out there right now to just fill out a 162-game schedule," manager Joe Maddon said. "Our goal is to repeat as division winners this year, and then moving on from there."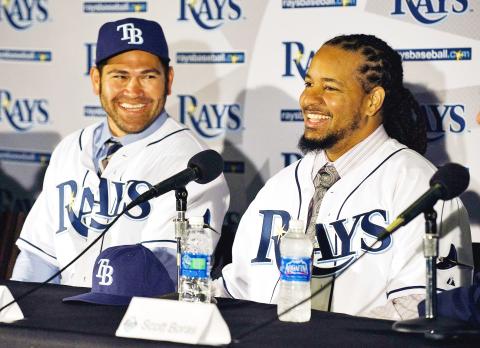 Johnny Damon, left, and Manny Rodriguez attend a news conference after signing one-year contracts to join the Tampa Bay Rays for the 2011 MLB season on Tuesday in St Petersburg, Florida.
Photo: REUTERS
The Rays are cutting their wages bill because of poor fan support. They have lost key players in outfielder Carl Crawford, first baseman Carlos Pena and closer Rafael Soriano to free agency.
Damon, 37, agreed to a US$5.25 million deal that includes a chance to earn US$750,000 in bonuses based on attendance.
Ramirez, 39, gets US$2 million from the Rays, a significant drop from the US$20 million he made last season with the Los Angeles Dodgers and Chicago White Sox.
Both players said the chance to play closer to their homes in Florida helped them make up their minds to move to a team that despite its financial constraints hasn't given up on the idea of challenging big-spending Boston and the New York Yankees in the division.
Ramirez, who will probably be used mostly as a designated hitter, said he's keen to show he can still contribute.
"I'm here, like I said, because I love the game, I love to compete. It doesn't matter how much money you make," Ramirez said. "What you want is a chance to prove to people that you still can do it."
Comments will be moderated. Keep comments relevant to the article. Remarks containing abusive and obscene language, personal attacks of any kind or promotion will be removed and the user banned. Final decision will be at the discretion of the Taipei Times.