Thorpe to return for London Olympics
'thorpedo' target: Ian Thorpe said he thought he did not have enough time to prepare for his favorite event, the 400m, but would instead train as a sprinter
Five-time Olympic freestyle champion Ian Thorpe announced his return to swimming for next year's London games yesterday, saying he could "actually taste" his desire to compete.
"Ian Thorpe is very much back," said John Borghetti of sponsor Virgin Blue, opening a joint press conference with Thorpe.
"He registered this morning with the international drug testing register and he's planning to win lots of gold at the 2012 Olympics," he said.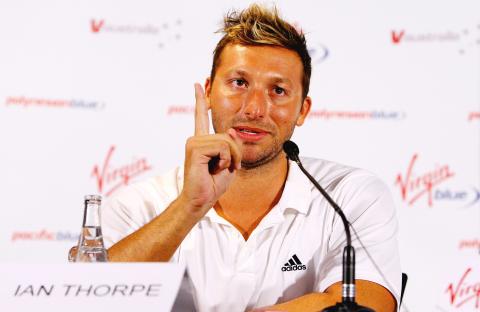 Ian Thorpe announces his comeback to competitive swimming during a press conference yesterday in Sydney, Australia.
Photo: EPA
Australia's most decorated Olympian, Thorpe said he decided to return to the sport back in September and started training on the sly, using eight different pools to dodge suspicion and telling friends to "lie through their teeth" about his plans.
Touring the "extraordinary" Olympic swimming venue in London sealed his decision, he said.
"I could actually taste it — I haven't felt like swimming like that for a very long time," Thorpe said.
He sketched out a plan for his comeback with sports psychologist Deirdre Anderson, who helped counsel him through his 2006 retirement, and was secretly trained via text message by Australia's team coach Leigh Nugent.
Thorpe, 28, was so determined to minimize the pressure on himself he didn't tell his family until just a few weeks ago, and Nugent supervised his training just once in the four months.
"It hasn't been something that I have taken lightly, making a decision to return to competitive swimming," Thorpe told reporters.
"I never thought this would happen. I never thought that I'd be swimming in a competitive way again," he said. "I'm very glad that I am. I'm glad I spent four years away from the pool. I needed those four years."
Nicknamed "Thorpedo," the imposing freestyler retired from swimming in November 2006 aged 24 after a decade in the sport, following a long period of illness and introspection.
Thorpe said he was coming back as a "slightly more mature" person and said he was being driven by a desire "to be able to perform again," not the lure of sponsorship money.
He said his focus would be on swimming the relay for Australia — an event in which he famously broke the US stranglehold and bagged gold at the Sydney 2000 Olympics — over both 100m and 200m.
Thorpe said he did not believe he had enough time to prepare for the 400m, his favorite event, but would instead train as a sprinter, something he said "may surprise a lot of people."
Sporting a deep tan, the self-effacing Thorpe seemed at ease with the huge press contingent, joking that contesting another Olympics was on his list of must-dos before he turned 30, along with joining a rock band and becoming a pilot.
"This seemed the most realistic," he laughed.
He refused to detail what times he was clocking, saying only that he had lost 5kg and was "swimming faster than when I begun, which is a very good sign because I was actually pretty bad."
Thorpe would not be drawn on his famed rivalry with the US' Michael Phelps, always the major threat in his competitive past.
"You say there's a rivalry, I think of the American team as my friends as well. We wish them well, but not too well, [that] can be the official message," he said.
Nugent said Thorpe would have to wait nine months before he'd be cleared by doping authorities to compete, meaning he would have just five months to hone himself against other swimmers before the Olympic trials next March.
Thorpe's first overseas tournament is likely to be a FINA World Cup event in November, with his first Australian contest to be the following month.
"Ian looks to be in pretty good shape, and I know he's been enjoying being back in the water," Nugent said. "We know he is an outstanding athlete, and with application and commitment he will make a success of this comeback."
Thorpe plans to do most of his training in Abu Dhabi and Europe ahead of the London Olympic trials and acknowledged there was a long road ahead.
"It's big, it's enormous, but I'm prepared," he said.
"I've had an almost flawless career and I've put that at risk. It would have been a lot easier to sit on that and not do a thing but I still have a desire, there's things in swimming that I haven't done that I would like to achieve," he said.
Comments will be moderated. Keep comments relevant to the article. Remarks containing abusive and obscene language, personal attacks of any kind or promotion will be removed and the user banned. Final decision will be at the discretion of the Taipei Times.