NFL: Favre content as streak ends at 297
For the first time in 19 seasons Brett Favre failed to report for work, ending one of the most remarkable ironman streaks in all of sport.
The 11-time Pro Bowl quarterback started his first game on Sept. 27, 1992, leading the Green Bay Packers to victory over the Pittsburgh Steelers.
He kept the job for 297 consecutive regular season games until his battered body would not allow him to take the field on Monday night when his Minnesota Vikings faced the New York Giants.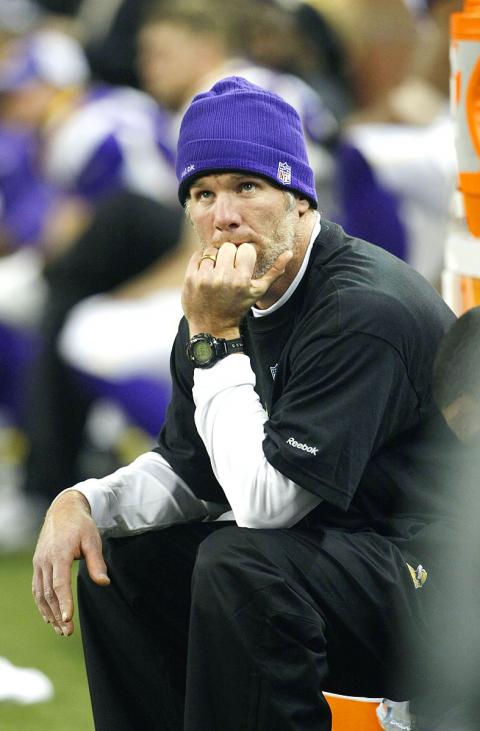 Minnesota Vikings quarterback Brett Favre sits on a water cooler during the fourth quarter of their game against the New York Giants at Ford Field in Detroit, -Michigan, on Monday.
PHOTO: REUTERS
"It's over and done with," Favre told the reporters after watching from the sidelines as the Vikings were pounded 21-3. "Whether it ended today or in several weeks or the end of last season, it has been a great run. I'm very proud of it."
Word that Favre's amazing streak was over spread quickly, the magnitude of 41-year-old quarterback's feat of durability leaving fans and fellow athletes in awe.
"Such a privilege to have seen one of the greatest accomplishments in sports history. Hats off to Brett," praised Tiger Woods on his Twitter account.
Favre played the game with a boyish joy and bulldog determination that endeared to him to fans and earned him the respect of both teammates and opponents.
The three-time league MVP, who was also a member of the New York Jets in 2008, played with a free-wheeling recklessness. He conceded that his streak probably should have ended long ago.
However, for nearly two decades, Favre survived the kind of punishment that made him seem indestructible, playing through pain, broken bones, torn ligaments, contusions and concussions.He also played through grief, scandal and an addiction to pain killers.
Football fans grieved with Favre when he lost his father in December 2003 and celebrated with him when he went on the field 24 hours later and produced one of the most remarkable performances in a career filled with magical moments.
Favre fought through the sorrow to toss a career-best four first-half touchdown passes and lead the Packers over the Oakland Raiders.
"It's been a long time," Favre said after the Giants game. "I'd much rather be playing, that's just my nature. I won't say it was time [for the streak to end], but it probably was long overdue."
"There have probably been a lot of times the streak should have ended. I can't believe something like this hasn't happened before. Pretty amazing," he added. "I don't like getting injured, but that is part of it ... I will not hang my head one bit because it ended today."
It seemed nothing could keep Favre off the field.
However, this season, time finally seemed to catch up to the 41-year-old grandfather as he battled through a laundry list of injuries, including tendinitis in his right elbow, a broken ankle and a split chin.
Each week there were questions whether Favre's streak was about to end until it finally did after he was slammed to the turf on the opening play of last week's game against the Buffalo Bills, leaving him with a sprained shoulder.
Ironman records and the men who achieve them have always held a special fascination for sport lovers.
Former Baltimore Orioles infielder Cal Ripken, who holds Major League Baseball's mark of 2,632 consecutive games played, became a folk hero in the US.
The perseverance, determination and dependability ironmen display resonates with fans, with many of those qualities seemingly lost among today's pampered, highly paid athletes.
Like many great athletes, Favre has had trouble facing the end, twice coming out of retirement, unable to let go.
Prior to Monday's game, the Vikings placed Favre on the inactive list, but gave no indication what the future holds for the future Hall of Famer.
"We all have to say goodbye to what we love. I feel for Brett. We can only choose to follow our hearts, not how the fairytale ends," 43-year-old Dara Torres, an Olympic swimming champion, said in an e-mail.
Comments will be moderated. Keep comments relevant to the article. Remarks containing abusive and obscene language, personal attacks of any kind or promotion will be removed and the user banned. Final decision will be at the discretion of the Taipei Times.