England and Argentina reach semis
DISAPPOINTING The South Africa coach says the team played below its potential, but adds that they fought well at the end of the game for tough-won equalizer
The weather turned from frigid on Friday to sunny spring on Saturday as England and Argentina secured semi-final berths from Pool B at the women's field hockey World Cup.
England defeated South Africa 2-1, Argentina defeated China 2-0 and Spain knocked South Korea out of semi-final contention with a 2-2 draw.
Helen Richardson's double made England look comfortable after Richardson cracked in a loose ball in the first half and tipped in at the right post Crista Cullen's fifth penalty corner chance in the second half.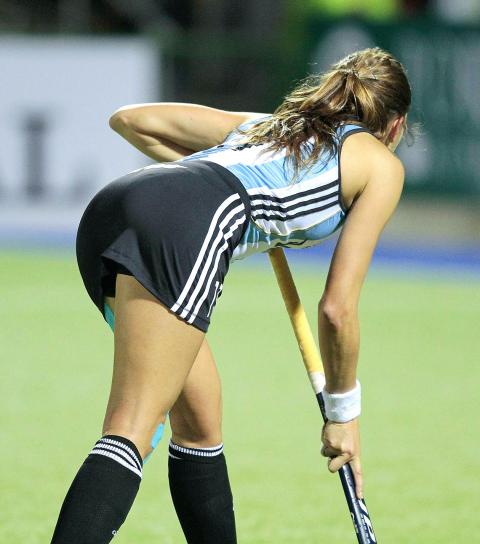 Argentine player Carla Rebecchi prepares a move against China in Group B of the women's field hockey World Cup in Rosario, Argentina, on Saturday.
PHOTO: EPA
That was until Pietie Cortzee brought the crowd to their feet with a sizzling penalty corner flick inside the left post and the large Argentina crowd applauded every move of South Africa in the last 15 minutes.
Cortzee had a last minute penalty corner, but her hit from the right was saved by England goalkeeper Beth Storry.
England coach Danny Kerry was pleased with the quality of England's defense.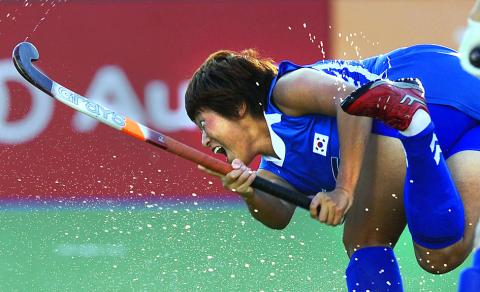 Korea's Cheon Seul-ki scores the second goal against Spain during their women's World Cup field hockey Group B match in Rosario, Argentina, on Saturday.
PHOTO: AFP
"I liked the quality of our play defensively, but we should have scored more goals from our six penalty corners, and we missed two early field goal chances," Kerry said.
South Africa coach Giles Bonnet believes South Africa played below their potential.
"It was a disappointing game for us and I think we played far below our level, but in the end I think we fought well for the equalizer in the last 15 minutes," Bonnet said.
Spain performed at a higher level than their previous three losses to hold South Korea to a 2-2 draw and simultaneous advance England to the semi finals.
Kim Bo-mi drove in Korea's first goal early in the first half and despite superior ball possession, Spain struggled to convert penalty corners until Gloria Comerma converted Spain's third chance late in the first half.
Korea went ahead 2-1, seconds before the break with a penalty corner by Cheon Seul-ki.
Silvia Munoz deflected in Spain's equalizer early in the second half and Spain out-muscled Korea in the numerous physical clashes of the second half to secure Spain's first point of the tournament.
Spain coach Pablo Usoz continued his theme of missed chances to convert penalty corners.
"As I have said before, it is the conversion of penalty corners that makes the difference to the score and we are not converting enough of our chances," Usoz said.
South Korea coach Kang Keon-wook away regrets losing the chance to be in the semi-finals.
"I am very disappointed as we made mistakes in defense and in the execution of our penalty corners and some of the basic skills of our players were poor," Kang said.
China held Argentina scoreless in the first half despite five penalty corner chances in succession in the middle of the half.
Noel Barrionuevo converted Argentina's seventh penalty corner with a high flick in the second half, which found a hole to exit the net and required the umpire to check the video replay to ensure the goal was scored.
Luciana Aymar scored the goal of the tournament so far, an individual run through the left midfield beating four defenders, the goalkeeper and a defender on the line to push in from 5m to the left of goal and bring the capacity crowd of 10,000 partisan Argentina fans screaming to their feet.
Aymar believes it was her best goal ever.
"It was the nicest goal I have scored in my whole career and I rate it 100 out of 100," she said.
Argentina coach Carlos Retegui described Aymar's goal as "magical and incredible."
China coach Kim Sang-ryul said he admired Argentina's skills.
"Of course Argentina is very skillful and experienced and they organize very well and in our team Song Qingling forgot her role today and I think these two things made a big difference to China," Kim said.
In Pool A yesterday, Japan were to meet India, Germany to face Netherlands and New Zealand to play Australia.
Comments will be moderated. Keep comments relevant to the article. Remarks containing abusive and obscene language, personal attacks of any kind or promotion will be removed and the user banned. Final decision will be at the discretion of the Taipei Times.