2010 FIFA WORLD CUP: American fans surprise the world
Americans who descended on Rustenburg for the US' World Cup opener against England last weekend were as puzzled as everyone else by their numbers, greater than any other foreign fans.
As the US battled their way to a 1-1 draw, the American stars and stripes held their own at the stadium against England's St George's cross, even though most locals were supporting the English.
Yesterday, red, white and blue inundated Johannesburg, where the US faced off against Slovenia.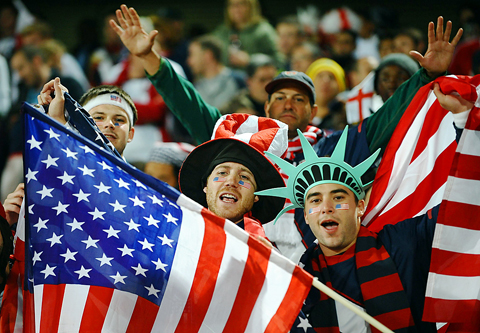 US supporters wave their national flag prior to the start of the World Cup Group C match between England and the US at the Royal Bafokeng Stadium in Rustenburg, South Africa, last Saturday.
PHOTO: AFP
After decades of apathy about soccer, Americans have surprised the world — not least themselves — by buying 132,000 tickets for this year's World Cup, more than any other country outside South Africa.
Even fans who have spent their lives playing and promoting the game say they're perplexed, if happily so, at the sport's seemingly sudden popularity.
"That one, I'm stumped too," said Brian Moore, a management consultant from Atlanta, as he pondered US ticket sales over a pre-game beer last week. "I think a lot of Americans are curious about Africa and want to come to Africa, but I have no clue why more Americans than others. To me it was very surprising. Maybe part of it is there's been a lot of negativity [about South Africa] in the European press."
That was one of many theories on offer as fans gathered for the game.
Maybe it's the unexpected success of the US team, who went to the Confederations Cup finals last year after pulling off a surprise win against Spain in the semi-finals.
Maybe it's the delayed pay-off of hosting the World Cup in 1994, an event that introduced world-class soccer to the US on a large scale.
Maybe it's the slow but steady growth of Major League Soccer, the domestic league whose name betrays the ongoing dominance in US sport of both major league baseball and that other, rougher game of American football.
Whatever it is, Americans are actually starting to care about soccer.
"Even some of my friends who play other sports, if there's a game on, they'll watch it," said Stephen Clark, who traveled to Rustenburg from Washington.
It's only recently that US TV has consistently broadcast games.
ESPN, the country's leading sports network, is stepping up its coverage of the World Cup this year, hoping to bring in US fans who watched past World Cups on Spanish-language channels.
ESPN has committed itself to providing full coverage of the tournament, hiring respected — mostly European — commentators and renting out one of three studios overlooking centerpiece stadium Soccer City.
"Their operation is huge. They've got hundreds of people working there," said Robert Paltiel, an executive producer based in South Africa working for the network.
Paltiel said that in 31 years of producing soccer events across Africa and Europe, this is the first time he's seen ESPN cover the game at the same level as European broadcasters.
"Their whole infrastructure is impressive. They've got satellite trucks that are moving all over the place. They really are covering this World Cup," he said.
However, soccer is still a long way from challenging the US' main sports.
Following the England match, Laura Barber said that is partly a question of success.
"The USA just has so many other sports that, sorry, it sounds cocky, but we're good at them. They're bigger in the US, so soccer doesn't ever get the representation," she said.
Then she amended her statement in a way that will please those who hope to see the US join the sport's broader community.
"Excuse me, not soccer. Correction: football," she said.
Comments will be moderated. Keep comments relevant to the article. Remarks containing abusive and obscene language, personal attacks of any kind or promotion will be removed and the user banned. Final decision will be at the discretion of the Taipei Times.