Canucks rue penalty as Kings win
The Los Angeles Kings took advantage of a Vancouver penalty in overtime to score a 3-2 victory and even their best-of-seven NHL playoff series at one game each on Saturday.
The Canucks were penalized for having too many men on the ice and Anze Kopitar fired home the winner on the power-play.
It capped a comeback for Los Angeles after goalie Jonathan Quick gave up two goals on the first four shots he faced in the first period.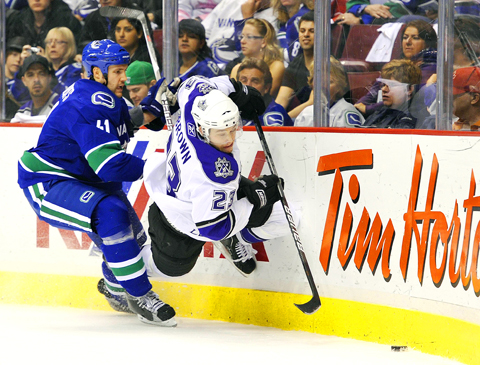 Dustin Brown, right, of the Los Angeles Kings is tripped up by Andrew Alberts of the Vancouver Canucks during Game 2 of their Western Conference quarter-final on Saturday at General Motors Place in Vancouver.
PHOTO: AFP
After Steve Bernier and Mikael Samuelsson gave the Canucks a 2-0 lead, the Kings came storming back in the second period when Fredrik Modin and Wayne Simmonds scored less than a minute apart.
Neither team could find the net in the third period, sending the game to overtime.
Los Angeles punished Vancouver on the power-play with two goals.
Capitals 6, Canadiens 5
Nicklas Backstrom completed a hat trick by scoring 31 seconds into overtime as the Capitals beat the Montreal Canadiens to level the first-round Eastern Conference playoff series at a game apiece.
Montreal led 2-0 after its first two shots, prompting Washington to replace goalie Jose Theodore, and then went ahead 4-1. But with Alex Ovechkin producing a goal and three assists, the Capitals kept rallying.
Rookie defenseman John Carlson leveled it at 5-all with 1:21 left in regulation, and Backstrom's wrister past Jaroslav Halak won it.
Andrei Kostitsyn had a hat trick for the Canadiens, and Tomas Plekanec put them ahead 5-4 with 5:06 left in regulation.
But Carlson picked a fine time for his second NHL score — he had one in 22 regular-season games.
Montreal was ahead 4-2 heading into the third period, but Ovechkin's first goal of the postseason made it a one-goal game at 2:56. With 10 minutes left in the third, Backstrom poked in a pass from Ovechkin.
Bruins 5, Sabres 3
At Buffalo, Michael Ryder and Zdeno Chara scored two minutes apart in the third period as Boston rallied to level the Eastern Conference series 1-1.
Comments will be moderated. Keep comments relevant to the article. Remarks containing abusive and obscene language, personal attacks of any kind or promotion will be removed and the user banned. Final decision will be at the discretion of the Taipei Times.