Ottawa Senators down Philadelphia 2-0
SHUTOUT NO. 2 The Senators' Brian Elliott got back-to-back shutouts as Ottawa handed Philadelphia their third loss in a row without their lead scorer, Jeff Carter
Philadelphia were shut out 2-0 by the Ottawa Senators on Tuesday in the Flyers' first game without leading scorer Jeff Carter.
Carter will miss three to four weeks because of a fractured foot and the Flyers were unable to find the net without the 25-year-old, who has 33 goals and 27 assists this season.
Flyers defenseman Chris Pronger told reporters his team had ample opportunities to score.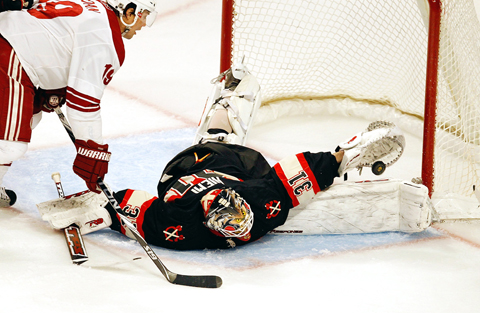 Antti Niemi, right, of the Chicago Blackhawks makes a save in the third period in front of Shane Doan of the Phoenix Coyotes on their way to a shut-out at the United Center in Chicago, Illinois, on Monday.
PHOTO: AFP
"We had a 5-on-3 we could have scored on. We had a number of power-plays there in the third we could have scored on," he added.
Sens goalie Brian Elliott recorded his second shutout in as many nights to hand the Flyers their third consecutive loss.
Elliott finished with 26 saves while Chris Kelly and Daniel Alfredsson provided the goals. It was the Senators second win in a row after they had lost five consecutive games. They beat Montreal by the same score on Monday.
"He's played unbelievable the last two games and we've been able to score the first goals too in the last two games, which definitely helps," Alfredsson said.
"We're skating much better. We're being more aggressive, not as passive as we were. Hopefully we can continue that," he said.
Ottawa (39-30-5), fifth in the Eastern Conference, moved four points ahead of sixth-placed Philadelphia (37-31-5).
The closest Elliott came to surrendering a goal on Tuesday came early in the third period when James van Riemsdyk's shot had to be reviewed to make sure it did not cross the line. The save was upheld.
Philadelphia goalie Brian Boucher had a solid outing, making 24 saves. Boucher is starting in place of Michael Leighton, who is out with an ankle injury. The Flyers also lost goalie Ray Emery for the season in February.
Boucher was beaten by Kelly's snap shot at 10:34 in the first period and Alfredsson made it 2-0 with a wrister 18 seconds into the third.
BLACKHAWKS 2, COYOTES 0
At Chicago, Antti Niemi made 28 saves for his sixth shutout as the Chicago Blackhawks took over the points lead in the Western Conference by ending the Phoenix Coyotes' nine-game winning streak with a 2-0 victory on Tuesday night.
Chicago moved closer to clinching its second straight playoff berth and now has 99 points, two more than the Coyotes and one more than San Jose, which regained the Pacific Division lead over Phoenix.
Patrick Kane and Marian Hossa scored second-period goals for Chicago, which beat the Coyotes for the first time in four meetings this season.
BRUINS 4, THRASHERS 0
At Atlanta, David Krejci scored a goal and assisted on another, Tuukka Rask blanked Atlanta for the second time this season, and the Bruins kept up their dominance over the Thrashers to extend their lead for the final playoff spot in the Eastern Conference.
DEVILS 6, BLUE JACKETS 3
At Newark, Travis Zajac and Zach Parise each scored twice and Ilya Kovalchuk had a goal and three assists to lead New Jersey over Columbus.
Paul Martin also scored for the Devils, and Martin Brodeur made 19 saves to reach the 40-win mark for the eighth time. No other NHL goalie has had more than three 40-win seasons.
OILERS 3, CANUCKS 2
At Edmonton, Tom Gilbert had a goal and an assist as the Oilers earned their third consecutive victory with a win over Vancouver.
Robert Nilsson and Andrew Cogliano also scored for the last-place Oilers, who were coming off consecutive wins over Detroit and San Jose and have won seven of nine at home.
In other NHL action, it was:
• Panthers 4, Maple Leafs 1
• Lightning 3, Hurricanes 2, OT
• Sharks 4, Wild 1
• Stars 3, Predators 1
• Flames 3, Ducks 1
Comments will be moderated. Keep comments relevant to the article. Remarks containing abusive and obscene language, personal attacks of any kind or promotion will be removed and the user banned. Final decision will be at the discretion of the Taipei Times.