NBA: Robinson seizes chance, scores 41
GAME TIME After receiving a US$25,000 fine for telling reporters he wanted to be traded, Nate Robinson got plenty of play on Friday and led New York over Atlanta
Nate Robinson, playing for the first time since Dec. 1, scored 11 of his 41 points in overtime on Friday to help New York to a 112-108 victory over Atlanta.
"I got nervous," Robinson said of his reaction when Knicks coach Mike D'Antoni called him off the bench late in the first quarter. "Butterflies. I don't know. I felt kind of sick. I was just real, real nervous. I was just going to do everything he asked me to do."
But Robinson had shaken off any nerves by the fourth quarter, scoring the Knicks final eight points of regulation and posting his third career game of 40 points or more.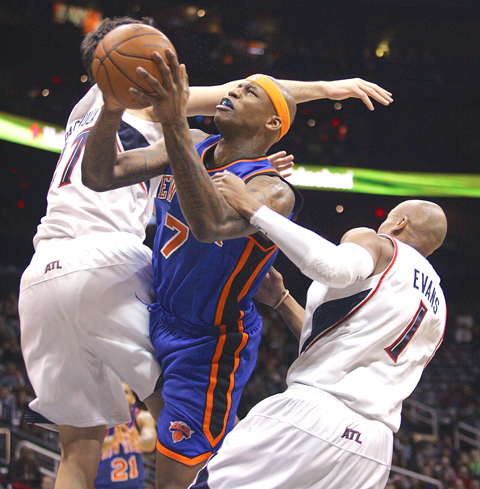 New York Knicks forward Al Harrington, center, is fouled as he drives between Atlanta Hawks center Zaza Pachulia, left, and guard Maurice Evans during the fourth quarter in Atlanta, Georgia, on Friday.
PHOTO: REUTERS
He made 18 of 24 shots from the field, came within four points of his career high and handed out eight assists.
"I guess he had 14 games built up in him," said Atlanta's Jamal Crawford, who grew up near Robinson in Seattle and was Robinson's teammate in New York for four seasons.
"I've seen it since high school," Crawford said. "When he's scoring, he's as good as the best of them ... He did whatever he wants."
"Against a great team, Nate single-handedly carried us," said New York's David Lee, who had 11 points. "It was unreal to watch him play tonight."
Three of Robinson's baskets in overtime gave New York a lead, including a three-point play with 2:09 to play that gave New York a 108-105 lead.
"We were kind of like, 'Everybody get out of his way," D'Antoni said.
Robinson was averaging 11 points in only 12 games. He had 24 points against Orlando on Nov. 29 and then played about 10 minutes against Phoenix on Dec. 1. D'Antoni didn't play him again for a month and Robinson's agent recently told reporters he had asked the team to trade Robinson.
The NBA fined Robinson US$25,000 over those remarks, because players aren't permitted to make public trade requests, even through their representatives.
"I want the world to see I can play the game of basketball," Robinson said, adding that a trade was now far from his mind. "This is where I want to be. And I hope that I can stay. ... It's a new year, a new start, and I'm not looking back."
"We've just been trying to get him focused on winning, and he obviously was focused on that tonight," D'Antoni said.
■LAKERS V KINGS
AFP, LOS ANGELES
Kobe Bryant's buzzer-beating three-pointer capped a rally that saw the Los Angeles Lakers erase a 20-point deficit to beat Sacramento 109-108 on Friday in a National Basketball Association thriller.
Bryant finished with 39 points, while Lamar Odom added a season-high 20 points and grabbed 10 rebounds for the Lakers.
Spain's Pau Gasol had 17 points, 16 rebounds and four assists, one of which set up Bryant's game-winner from in front of the Sacramento bench.
Bryant buried the three-pointer as time expired and Lakers fans at Staples Center chanted "M-V-P."
It was Bryant's third game-winning shot of the season.
He scored 27 of his 39 points in the second half.
Andrew Bynum added 16 points and four rebounds for the Lakers, who improved to 26-6.
Spencer Hawes had a career-high 30 points and grabbed 11 rebounds for the Kings, Omri Casspi scored 23 points and Beno Udrih added 19 points and 13 assists.
The Lakers' Shannon Brown had a three-pointer fail to drop with 8.9 seconds to play, and the Kings were up 108-106 when the ball went out of bounds off Gasol's knee.
But Sacramento's Ime Udoka left the door open for the Lakers when he missed two free throws with 4.8 seconds to play.
After a Lakers timeout with 4.1 remaining, Bryant sealed the win, avoiding stepping out of bounds as he released the ball in the nick of time.
Los Angeles were without Ron Artest for the fourth straight game as he continues to recover from a concussion suffered in a fall at his home.
■MAGIC VS TIMBERWOLVES
AP, MINNEAPOLIS, MINNESOTA
In Minneapolis, Minnesota, Rashard Lewis scored 21 points to lead Orlando in the win over Minnesota.
Matt Barnes added 17 to help the Magic snap a three-game road losing streak.
Comments will be moderated. Keep comments relevant to the article. Remarks containing abusive and obscene language, personal attacks of any kind or promotion will be removed and the user banned. Final decision will be at the discretion of the Taipei Times.