'Human cockfighting' eyes Asian market
It has been branded "human cockfighting" by US Senator John McCain and bloodlust unbound by its critics, but mixed martial arts (MMA) has evolved from "no holds barred" brawls to become one of the world's fastest growing sports.
Popularized by the Ultimate Fighting Championship (UFC) in the US, MMA is a fusion of fight styles that melds the stunning strikes of boxing and muay thai, the sleek submissions of Brazilian jiu-jitsu and the devastating power of wrestling.
It has fought hard to gain credibility, regulatory backing and global appeal by introducing a comprehensive list of rules, stringent doping procedures and embarking on an educational campaign to win hearts and minds.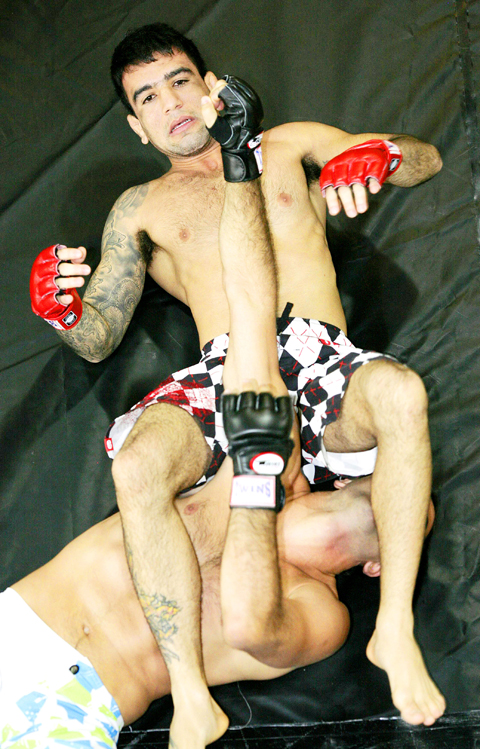 Mixed martial arts instructors spar during a demonstration for the media in Singapore last Tuesday.
PHOTO: REUTERS
Now sanctioned in more than 40 US states, the sport is experiencing explosive growth in viewership and participation. Its top athletes are winning mainstream recognition, hefty salaries and lucrative sponsorship deals.
George St-Pierre, the UFC's welterweight champion, inked a multi-year deal with sports apparel maker Under Armour Inc last month and earlier this year became the first MMA fighter to sign with Gatorade.
MMA gyms are springing up worldwide and the UFC is staging events in Europe, Canada and Australia.
'CAVEMAN INSTINCT'
Chatri Sityodtong, managing director at the new Evolve Academy in Singapore, said that MMA's massive growth lay in a primal fascination with combat — "a reflection on humanity, the caveman instinct."
However, it did not deserve its reputation for violence, he said.
"This is the greatest misconception about the sport of MMA," said Chatri. "If it was such a violent, dangerous sport the safety record should be worse than boxing .... worse than skydiving, worse than all these other adrenaline sports. Yet it's safer."
While boxing has a far longer history, the "sweet science" has a much poorer safety record, with studies in the Journal of Combative Sport putting the number of ring-related deaths at more than 10 per year worldwide.
The death of Sam Vasquez in 2007, however, is the only fatality from a sanctioned MMA bout in North America, though there have been three other deaths in Mexico, South Korea and Ukraine.
The condition dementia pugilistica, also known as "punch-drunk syndrome," is another health risk for career boxers and is caused by repeated dazing blows to the head, resulting in memory, speech and coordination problems.
Chatri said since MMA fights are shorter (three to five rounds) and much of the action takes place on the mat, the potential for permanent damage to the brain is far less than in boxing, where fighters can be "pounded in the head for 12 rounds."
World Boxing Council chief Jose Sulaiman told reporters in a previous interview: "[MMA] is fed to those fans who like aggression, blood and illegality. They are not boxing fans. Boxing fans have class."
Thai Chatri, who trained at the world-renowned Sityodtong muay thai gym growing up and holds an MBA from Harvard Business School, pointed to the numerous former Olympians who have switched to MMA as an example of the sport's growth and safety.
ASIAN TAKEOFF
Chatri said MMA was primed to take off in Asia after having become the third most watched sport in the US, although other sources suggested the figure referred to viewers within the male 18-to-34-year-old demographic.
"We blew through our three-year financial goals in three months, so there's strong interest in Singapore," he said. "We are at the beginning of the MMA revolution in Asia."
That "revolution" will take a step forward next year with the launch of "Martial Combat," a series of MMA events to be broadcast across Asia by ESPN Star Sports (ESS) and staged at Singapore's S$6.59 billion (US$4.69 billion) Resorts World Sentosa. The first event is scheduled for May 14 and May 15.
Comments will be moderated. Keep comments relevant to the article. Remarks containing abusive and obscene language, personal attacks of any kind or promotion will be removed and the user banned. Final decision will be at the discretion of the Taipei Times.