2010 FIFA WORLD CUP: New Zealand coach confident the goals will come at home
New Zealand coach Ricki Herbert is confident his side can produce the goals that are needed to book a World Cup spot when his side meet play-off qualifying rivals Bahrain in a month's time.
The Kiwis held an unrelenting, but distinctly unlucky Bahrain to a goalless draw in the first-leg of their 2010 World Cup Asia/Oceania play-off in Manama on Saturday.
Bahrain missed at least four clear chances to score, while New Zealand defended stoutly and emerged unscathed, with their goalkeeper Mark Paston the hero of the evening.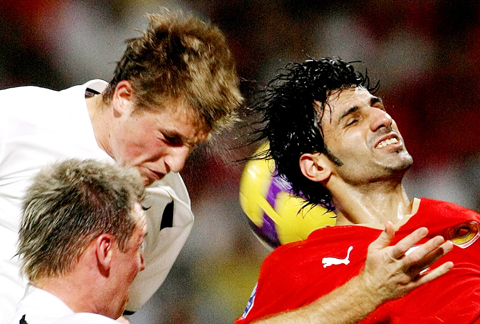 New Zealand's Chris Wood, top left, and Chris Killen, left, battle for the ball with Bahrain's Hussein Ali Mohammed in Riffa, Bahrain, on Saturday.
PHOTO: AFP
Bahrain enjoyed better ball possession and dictated the pace of the match, but could not find the target to give meaning to their overall domination.
The second-leg is scheduled for Nov. 14 in Wellington, with the winner booking a berth for the 2010 World Cup in South Africa. Herbert, who played for New Zealand on their last World Cup campaign in 1982, was understandably a pleased man at the end of the match.
"I'm very proud of the way we played. We did not escape from a loss, but played really hard for a draw. I'm very pleased with the overall performance," he said. "Bahrain played really well, particularly in the second-half and even struck the post, but the second-leg will be different. Different location, different scenario and it will be fantastic and well sold out."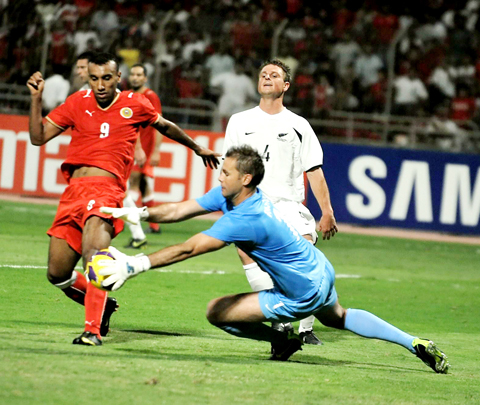 New Zealand keeper Mark Paston makes a save in front of Bahrain's Hussain Ahmed during their World Cup playoff match in Riffa, Bahrain, on Saturday.
PHOTO: EPA
Bahrain's Czech coach Milan Macala admitted his team could have to raise their game in Wellington, as he lamented the poor finishing that failed to give the hosts a first-leg advantage.
"We had many chances to score, especially in the second half when we played much better. You can't expect to progress when you simply can't score. We now have tough job in Wellington," Macala said. "It will be a different and difficult situation. Different climate, different time zone and a totally different scene, but we will try, try and try and make the best of this opportunity to play in the World Cup."
Bahrain are yet to play in the soccer showpiece event. The tiny Gulf nation, with a population of a little more than a million, came agonizingly close to playing in the World Cup four years ago, but lost to Trinidad and Tobago at the same stage and at the same venue. The unfamiliar and unforgiving hot and humid weather conditions, with the temperature hovering close to 40ºC, also took an early toll on the visitors, who though taller and stronger than their Bahraini rivals, clearly struggled to keep pace.
Bahrain thus dominated the second half, but came up against a solid Paston in the Kiwi goal.
Asian super powers Japan, Australia and South Korea, along with North Korea, have already booked a berth at the World Cup.
While Bahrain is bidding for a possible fifth spot, Herbert hopes a goal or two in the second leg puts paid to those ambitions.
"But we won't be taking any chances. Our primary focus will be to put the ball in the net because Bahrain are capable of anything," he said.
Comments will be moderated. Keep comments relevant to the article. Remarks containing abusive and obscene language, personal attacks of any kind or promotion will be removed and the user banned. Final decision will be at the discretion of the Taipei Times.