NFL: Favre helps Vikings frustrate Packers
PURPLE REIGN Graying quarterback Brett Favre, who had been the pride of Green Bay for 16 years, went 24 for 31 as he led the Vikings to victory over his old team
Brett Favre's first game against his former team was all fun for the Minnesota Vikings and all frustration for Green Bay, as the graying quarterback connected for three touchdown passes and 271 yards in a 30-23 victory over the Packers on Monday.
Favre went 24 for 31, without a turnover. He did an awkward body bump with kicker Ryan Longwell, also a former Packer, and stayed poised in the pocket all night.
The Vikings (4-0) sacked Favre's replacement, Aaron Rodgers, eight times. Jared Allen was credited with 4.5 of them, a career high, including a safety in the fourth quarter that stretched the lead to 16. Rodgers had his first two turnovers of the season, and Favre turned both of them into vintage touchdown passes in the first half.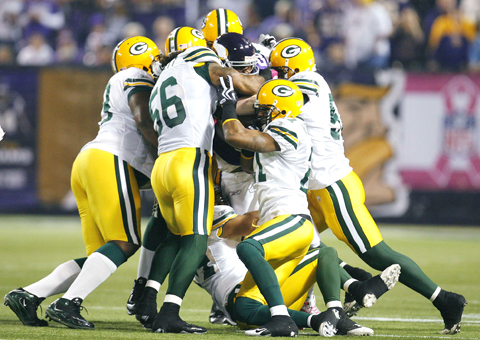 The Green Bay Packers defense tackles the Minnesota Vikings' Adrian Peterson during the first half of their NFL game in Minneapolis, Minnesota, on Monday.
PHOTO: REUTERS
"Lot of fun. It was a big win for us," Favre said. "We did what we had to do."
Favre hugged Rodgers, Donald Driver and several other Packers once the game was over. Rodgers tried to engineer the kind of drive his predecessor is famous for, but he came up short.
Favre also had plenty of time to throw throughout the game.
Rodgers had the exact opposite experience. He finished 26 for 37 for a career-high 384 yards, many of them in desperation down the stretch, and two touchdown passes.
The Vikings were relentless in their rush, particularly Allen on left tackle Darryn Colledge, who left in the third quarter with a right knee injury. Colledge moved from left guard two weeks ago when Chad Clifton got hurt.
Rodgers' receivers let him down, too, though. On fourth-and-goal at the 1 in the third quarter, Rodgers found tight end Donald Lee open in the end zone. But the ball bounced off Lee's chest and onto the turf, as Rodgers snapped his head back with his hands on the sides of his helmet.
Pink wristbands, cleats and sideline caps for breast cancer awareness gave the game a different look, but nothing altered the color scheme as much as Favre in purple. This was his sixth game with Minnesota, counting the preseason, but the sight of the guy who led Green Bay to a Super Bowl trophy and took only one losing record in 16 years there, wearing the rival team's jersey was still strange.
This was a highly anticipated and heavily hyped game. Everybody in the stadium stood all the way through the Vikings' first possession, instead of sitting after the first few snaps like usual. Cameras flashed constantly.
Comments will be moderated. Keep comments relevant to the article. Remarks containing abusive and obscene language, personal attacks of any kind or promotion will be removed and the user banned. Final decision will be at the discretion of the Taipei Times.