Yankees clinch playoff berth, defeat Angels 6-5
BACK ON TRACK The Yankees were assured of a playoff berth when the Texas Rangers fell 9-1 to the Oakland Athletics about an hour before the last out in Anaheim
AMERICAN LEAGUE
Brett Gardner scored the tiebreaking run on Alex Rodriguez's sacrifice fly in the ninth as the New York Yankees celebrated clinching their 14th playoff appearance in 15 seasons on Tuesday night with a 6-5 victory over the Los Angeles Angels.
Rodriguez homered and drove in three runs before Mariano Rivera earned his 41st save for the Yankees, who were guaranteed a return to the postseason about 55 minutes before the last out in Anaheim when Oakland beat the Texas Rangers 9-1.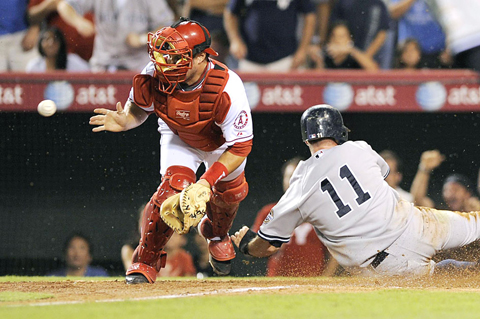 Los Angeles Angels catcher Ryan Budde awaits the throw as the New York Yankees' Brett Gardner slides home safely with what would be the winning run in the ninth inning at Angel Stadium in Anaheim, California, on Tuesday.
PHOTO: EPA
The Yankees blew a 5-0 lead before rallying to win for the first time in five games this season at Angel Stadium.
Derek Jeter, Johnny Damon and their teammates are back in the postseason after staying home last fall in manager Joe Girardi's debut campaign.
The Yankees won 17 playoff series and four World Series titles in a 13-year span after 1994, but New York hasn't won a championship since 2000 or even a playoff series since the 2004 division series, losing four straight.
These Yankees are likely to be in prime position to end that streak. They also have a six-game lead over Boston in the AL East and a 5.5-game edge on the Angels for homefield advantage at the new Yankee Stadium throughout the postseason.
Chone Figgins homered for the Angels, who had won four of five.
Los Angeles still has a 7.5-game lead on the Rangers in the AL West, but its magic number stayed at six for clinching its third straight division title.
The Yankees took a five-run lead in the fifth inning after early homers from Rodriguez, Jorge Posada and Hideki Matsui, but Los Angeles chipped away with several typical small-ball rallies, tying it when Izturis drove home Howie Kendrick with a single over the drawn-in infield in the eighth.
Jeter's fourth-inning single clinched his seventh 200-hit season, a major league record for shortstops.
A'S 9, RANGERS 1
At Oakland, California, Kurt Suzuki and Daric Barton drove in two runs apiece while Trevor Cahill won his fourth straight decision with a 9-1 victory over Texas.
The Rangers' loss kept them 6.5 games behind Boston in the AL Wild card race.
In Tuesday's other AL games, it was:
• Mariners 4, Rays 3
• Tigers 3, Indians 1
• Twins 8, White Sox 6
• Royals 5, Red Sox 1
• Blue Jays 6, Orioles 5, 11 innings
NATIONAL LEAGUE
AP, HOUSTON
Joel Pineiro allowed five hits in seven innings and Yadier Molina hit a two-run homer as St Louis inched closer to the NL Central title with an 11-2 win over Houston on Tuesday night.
Colby Rasmus added a solo shot as the Cardinals reduced their magic number for clinching the division to two. Pineiro (15-11) struck out four to win for the first time in four starts.
The Astros have dropped nine straight, their longest skid since losing 10 straight in May 2007. Interim manager Dave Clark fell to 0-2 since replacing the fired Cecil Cooper on Monday.
ROCKIES 11, PADRES 10
At Denver, Colorado hung on to beat San Diego 11-10 despite a four-run ninth-inning rally by the Padres.
In Tuesday's other NL games, it was:
• Diamondbacks 10, Giants 8
• Dodgers 14, Nationals 2
• Phillies 9, Marlins 3, Game 1
• Marlins 3, Phillies 0, Game 2
• Braves 3, Mets 1
• Cubs 7, Brewers 2
• Reds 10, Pirates 4
Comments will be moderated. Keep comments relevant to the article. Remarks containing abusive and obscene language, personal attacks of any kind or promotion will be removed and the user banned. Final decision will be at the discretion of the Taipei Times.